We have a strict honest reviews policy. To fund our research and testing, this post contains affiliate ad links.
In this detailed Canva review, I'm going to look at all the key pros and cons of an increasingly popular app for designing visual materials. Is it right for your business? Or should you stick with a professional desktop app like Adobe Photoshop? Let's find out.
The quick verdict
Canva is an excellent design app and arguably one of the most useful tools a small business can have in its arsenal. It lets you create an astonishingly large range of assets — including adverts, infographics, videos and even websites — easily, cheaply and quickly. You don't need much in the way of graphic design experience to get great results out of it.
In terms of its disadvantages, Canva's range of output formats is quite limited, meaning that the projects you export from the platform can't always be edited by professional designers using other tools. Additionally, no phone support is available and the options for backing up your work are very limited.
But overall Canva is a superb app that offers great value for money, and its free trial is lengthy and generous too.
Let's start our deep dive into Canva with a key question…
---
What is Canva?
Canva is a graphic design app that aims to let you design visual materials without needing extensive graphic design experience. Typically, the tool is used to create social media graphics, simple videos, presentations, slides, posters and other visual assets — and a wide range of customizable templates and royalty free images is provided to help users do so easily.
Unlike traditional graphic design tools like Adobe Illustrator and Photoshop, Canva's learning curve is designed to be extremely gentle. This means that its feature set is more basic that these sorts of 'pro' solutions — but its pricing is considerably lower than them too.
Launched in 2013 by technology entrepreneur Melanie Perkins, Canva is now a hugely popular solution for creating designs, boasting over 135 million monthly active users (MAUs) in over 190 countries.
Over 15 billion designs have been created with the tool and 4,000 staff members now work for the company.
But how does it actually work?
---
How does Canva work?
Canva can be used either in a web browser or as a downloadable app (for Mac, PC, Chromebook, iOS or Android).
It gives you three key things to help you create your design:
templates — pre-designed layouts that you can use for a wide range of applications (for example to create presentations, videos, adverts, business cards, infographics or charts)
'elements' — royalty free photos, videos and graphics that you can add to your Canva templates
a drag and drop editor that lets you move elements around a template.
Additionally, Canva provides controls for editing the typefaces and colours used on a template; it also lets you create custom templates.
The idea is that you simply pick a template, drop some content into it, make a few tweaks and then export your design for use online or as a printed item.
But how easy is this in practice?
---
Ease of use
When you log into Canva, you are presented with a question: 'What will you design?'
You can answer this question by entering design ideas in the search bar provided, or clicking the icons underneath it. Doing so will give you access to suggested layouts for presentations, social media posts, videos, printed products and more.
Either way, you'll end up with a wide range of templates to choose from. You can pick one of these as the starting point for your design.
From there, it's a case of editing the template so that it meets your needs. You can do this by clicking on one of the design's elements (text, visuals etc.) and using the controls that appear above it to change that element.
Alternatively, you can replace the placeholder content with your own images or text (or add additional pictures and copy).
To add an image to a template, you can either search for an element from Canva's 'elements' library (hundreds of thousands are available, and I've yet to come across a search phrase that isn't adequately catered for).
You just click on an element to add it to your design, and you can resize it easily to suit your purposes.
Where changing text is concerned, it's simply a case of overwriting the existing copy, or using the 'text' tool (pictured below) to add new headings or body text.
Using 'Magic Design' to create a template
You don't necessarily have to search for a template in Canva to find the right one for your project. This is thanks to a new AI feature, 'Magic Design,' that creates one for you based on images you upload. I tested this out using a picture of a musician, and Canva surfaced various template suggestions that were suitably 'arty' — I would have been happy to use them as a starting point for a design.
You can learn more about this feature in the video below.
Ultimately, the process involved in creating a design in Canva is simple and its interface is extremely user-friendly — anyone who's used a word processor or a simple graphics tool will find the learning curve fairly non-existent.
And this learning curve has been made even more gentle recently with the addition of a new feature: the 'Canva Assistant', a chatbot-style tool that sits in the bottom-right corner of the design interface.
You can use the assistant to quickly search for design assets or Canva features that you wish to use in your current design.
It's also worth pointing out that the fact that Canva's interface is available in over 130 languages helps matters from an ease-of-use point of view too.
So all in all, it's fair to say that Canva meets its goal of making graphic design extremely accessible to non-designers.
What about adding your own assets to Canva?
Although a key aim of Canva is to give you everything you need to create designs all in one place — photos, videos, typefaces, templates etc. — it also lets you import your own assets too.
This can be done via its 'uploads' section, which allows you to import images, videos or audio to your Canva account in a variety of formats: JPG, PNG, SVG, MP3, MP4, Illustrator and PPT.
(It also lets you record a video of yourself).
Once you've uploaded an asset, you can simply grab it from the 'images,' 'videos' and 'audio' tabs provided and insert it into your projects.
You can also add your own custom fonts to Canva — I discuss this in more depth shortly.
Photo editing options in Canva
Once you've added a photo to a design, you can tweak it easily using Canva's photo editing tool.
To access this, you just click on a photo contained in one of your projects, and then on the 'edit image' button.
This gives you access to a set of simple controls that let you alter that image's appearance in various ways. Sliders to adjust brightness, contrast, highlights and saturation are provided (amongst several others), and you can also make use of Instagram-style filters.
You can apply changes to your whole image, its background, or the foregrounded object (see screenshot below for an example of Canva controls being used to make some extreme changes to the background of a picture).
If you like, you can also edit images via Canva's 'modal photo editor' (pictured below). This is a new, 'standalone' image editor that allows you to crop images, apply filters to them, remove their backgrounds or adjust color settings before adding them to a design.
You can also make use of an 'auto-adjust' option for correcting image colors.
I touched on Canva's 'background remover' feature briefly above. This is a handy tool that, as its name suggests, lets you remove or replace the background from photographs. It works well and is particularly useful for creating headshot photos for websites or email signatures and thumbnails for YouTube videos.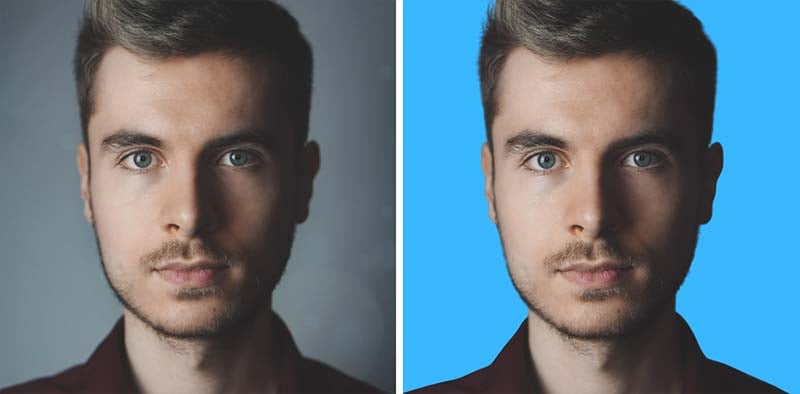 Another photo-editing tool worth mentioning is Canva's new 'Photo Colors' feature (pictured below). This automatically extracts the main colors from a photo into a palette, allowing you to incorporate them into other parts of your design — text, shapes, graphics etc.
Ultimately, it's fair to say that Canva's image editing tools are of a 'cut-down' nature. But they are powerful, incredibly easy to use and give you access to the features that are arguably the most relevant to effective graphic design work.
Editing videos in Canva
In addition to letting you create 'static' designs, Canva lets you create videos too. The process for video creation works in a broadly similar way to designing static content — you pick a template, tweak it, and add clips to your video as necessary.
Clips can either be imported to the uploads section, or you can add them to your video timeline using Canva's extensive library of stock videos (which you'll find in its 'Elements' section). Alternatively, you can use your webcam to record video directly into Canva.
The clips themselves can be tweaked —for example, you can crop, flip or animate them. We did find however that when we added animations to videos, they did not always export successfully; there may be a bug to address here.
One particular editing feature that's worth singling out as being particularly impressive is Canva's new video background removal feature (pictured below).
Although this is just available in BETA mode for now, and only works with videos that are 90 seconds or less in length, it's very effective at stripping out busy backgrounds behind speakers — and just as easy to use as Canva's background removal tool for static images.
Another nifty (and recently introduced) feature that helps simplify video editing is Canva's automated 'beat sync' tool. This automatically matches your clips, footage, and accompanying animations to the tempo of the background music you're using in your video.
Once you've got your video clips in place, a timeline lets you drag and drop them into place, trim them and create your final edit. You can also add audio to your video from a royalty-free library of over 25,000 pieces of music / sound effects.
Although the video creation functionality on offer from Canva is nowhere near as extensive as that which you'd find in a dedicated video editing application — you won't be able to play with a wide range of transitions, or professionally grade your video content, for example — it's extremely usable, and the built-in stock videos and audio libraries can help users save a lot of time and money.
How to access a 30-day free trial of Canva Pro (note: available for a limited time only)
For a limited time only, you can access a 30-day free trial of Canva Pro here. This gives you access to all Canva's premium design tools, along with a huge library of stock images, graphics, video and audio. Note that in order to access the trial, you will need to enter credit card details — but you will be given the opportunity to cancel your trial before moving on to a paid plan.
Creating presentations in Canva
A key use of Canva is as an alternative to Microsoft PowerPoint.
Now, it doesn't give you all the bells and whistles that PowerPoint does (there are no 3D models or equation features to play with, for example, and the types of graphs you can create are more basic than those you can make with PowerPoint).
However, the range of tools on offer is still decent and the interface for designing presentations is extremely easy to use — in my view, easier than PowerPoint's.
The template range is much bigger than PowerPoint's too: Canva gives you over 16,200 templates to choose from, which come in 3 formats (16:9, 4:3 and 'mobile first'). By contrast, PowerPoint gives you just 50 out of the box.
(You can read our full Canva vs PowerPoint comparison here.)
Recording a presentation in Canva is simple too; you can use your computer's webcam and built-in microphone to record a video of yourself as you present the content (a circular video of you appears in the bottom left corner of the presentation when you do so — see highlighted section in screengrab below).
The only issue I have with creating presentations in Canva involves exporting them: although it's perfectly possible to output your presentation to PowerPoint format (PPTX), it involves a strange and clunky process. Rather than using the standard 'download' link to export your presentation, you need to use a separate 'share' option and trawl through a wide range of sharing formats to do so.
It would be much better if you could simply choose to export designs to PPTX in the same manner as other file formats (I discuss exporting options in more depth shortly).
On the plus side, Canva does a very good job of exporting to PowerPoint format: when testing the feature, I was pleased to see that the exported version looked exactly how it did in Canva (see screenshot below).
If you like, you can import PowerPoint files to Canva for editing too. My experience of this was less positive — the imported files didn't look quite the same as they did in PowerPoint. Some of this was down to font choice (not all the typefaces you have installed locally will be available in Canva), but other design elements didn't import exactly as hoped for either.
Importing files into Canva
On the subject of importing files, Canva has launched a new feature that lets you import a wider range of files into the platform. Up until recently, you were limited to importing static image and video files, but you can now import and edit PDF (Adobe Acrobat) and PSD (Adobe Photoshop) files too.
I tested this new import feature out with a PSD file and it worked superbly — all the image layers were imported fine, and were easily editable.
You can also import a wide range of audio file types into Canva: supported formats include M4A, MP3, OGC, WAV and WEBM.
---
Creating documents with Canva
The most significant recent addition to Canva's feature set is its new 'Canva Docs' feature.
As its name suggests, this lets you create documents and can, if desired, be used as a simple alternative to desktop publishing apps like Microsoft Word.
Canva Docs lets you use all of Canva's design tools, templates, brand kits and stock visuals when creating a document, giving you a quick way to create attractive, on-brand content that 'pops' off the page or screen.
(There are over 310 templates available that are specifically for creating documents with — these include project proposal, press release, style guide and student journal templates).
Although you could technically create similar documents with tools like Microsoft Word or Google Docs, the process for doing so would arguably take a lot longer and you'd need to source all the imagery for your documents outside of the applications themselves.
That said, Canva Docs is not yet a substitute for a professional desktop publishing app — try inserting a table of contents, using advanced markup or adding page numbers into a Canva document and you'll find out why!
You'll also be disappointed if you're hoping to create something in Canva Docs for editing in Word: only PDF export of documents is currently possible (that said, there are plenty of tools available that you can use to convert PDFs to Microsoft Word format).
But Canva Docs does offer something unique that you won't yet find in traditional desktop publishing apps: its new 'Magic Write' tool. This is an 'AI-powered' text generator that Canva claims can automatically create the content for your document — you give it an article or paragraph title and let it come up with the copy for you.
You can think of this as a basic ChatGPT-style content generating tool, albeit a more basic one.
In my tests, I found that the copy that Magic Write provided wasn't terrible — but there were issues with accuracy.
For example, when I asked Magic Write to give me a summary of The Beatles' history, it gave me a grammatically-sound and broadly correct paragraph about the band's early years — but also a weird section about their 'final era' which apparently 'lasted from 1970 until their break up in 1970.'
I found Magic Write to be of most use for getting ideas for document structures. As a test, I asked it to give me an outline for a blog post comparing two ecommerce platforms we write about a lot, Wix and Shopify — and I was pretty impressed with the content headings it suggested (see screenshot below for the test results). The headings provided definitely reflected the type of sections we typically use in our ecommerce comparisons.
Ultimately the Magic Write feature has a bit of a way to go before it can create copy that doesn't require editing before publication. But it is good at generating ideas that can inform how you go about creating text-based content.
Update: recently Canva rolled 'Magic Write' out to all its tools, meaning that you can use its AI content-creation features in any design type.
You should note however that limits apply to how many times each month the Magic Write tool can be used. On Canva's free plan, 25 uses in total are permitted; this rises to 250 on its premium plans.
---
Creating charts and data visualizations in Canva
Although Canva is typically thought of primarily as a go-to tool for creating social media graphics, it also gives you some really useful (and often overlooked) features for creating charts and graphs.
You can create up to 19 different types of chart using Canva, including bar charts, line graphs, pie charts, histograms and more.
The feature is extraordinarily easy to use — you simply enter your data into a table on the left hand side of the Canva interface, which Canva then automatically turns into a chart or graph (see screenshot below).
These can be exported to a variety of file formats, or embedded on websites via a code snippet (the latter method of presentation giving you a way to update your data in Canva and show the most up to date graphs on your site automatically).
If that's not enough for you, you can also make use of a new data visualization feature in Canva — an integration with the 'Flourish' platform, which is used by thousands of organizations worldwide to create interactive data visualizations.
We've used Flourish in the past and it is capable of truly stunning results, so its integration into Canva is a really exciting development.
As things stand, you can only produce two types of data visualizations via the Flourish integration, a hierarchical treemap and packed circle charts, but even these formats give you fantastic ways to present your information.
For me, Canva's charting capabilities and the Flourish integration represent standout features of the tool that give you really simple ways to present statistics and data in an extremely attractive, on-brand way.
You can learn more about creating charts with Canva here.
---
Exporting your projects
Once you've created your design or video in Canva, you can export it to a variety of formats, namely:
PNG
JPG
PDF (low-res and print quality).
SVG
MP4
GIF
PPTX
To be honest, by comparison to professional design tools (or even similar 'prosumer' tools like Adobe Express), this is quite a small range of output formats, and represents one of the key drawbacks of Canva.
If you use a professional graphics or video editing package, you'll be able to export your content into just about any format going — but Canva really limits your options here.
Significantly, you can't export to Adobe Photoshop's PSD format, meaning that if you want to start a design off in Canva and then send it to a professional graphic designer for enhancement, you're out of luck.
(Workarounds for addressing this situation exist — involving converting files to PDF and using third-party tools to separate layers out — but they're clunky).
And only one video export format is provided: MP4 (with no options provided to adjust its size or quality).
Now, to be fair, Canva does cover the basics with its output formats, and a lot of its users won't really need a bunch of additional ones; the key aim of the product is to let people create quickly, and export simply. For most applications, the range of export formats will be fine (especially if you're using Canva to create content that's destined to be consumed online).
But some users will miss the flexibility to output in a format of their own choosing.
And speaking of flexibility…
Canva's Magic Resize tool
A particularly useful feature of Canva is its 'Magic Resize' tool, which lets you repurpose existing designs for different platforms really easily. You can take an existing design, and then use the Magic Resize tool to automatically reformat it to suit different social media channels.
In other words you can usually turn a blog post banner into a Facebook post image or a YouTube video thumbnail just by clicking a button.
The below video gives you an overview of how the feature works.
Embedding Canva projects
It's important to note that you don't always have to export your Canva project to a file format. If displaying a design digitally, you can also embed it.
To do this, you simply grab a snippet of code from Canva and add it to your website. Doing so will display your project — but crucially, reflect any changes that you make to it in Canva automatically.
---
Ensuring brand consistency with Canva
As we've seen above, Canva provides users with a lot of tools and content to create marketing materials with — templates, graphics, stock photos, videos etc. In theory, you could use all these to design your assets, without needing to resort to anything else.
You could even use Canva to create an entire brand identity — i.e., create a logo in Canva; define a color palette; and choose fonts for your brand from the extensive range provided within the platform.
In fact, 'suggested' brand identities are available from Canva — color palettes and typefaces.
But in practice, most businesses will need to configure Canva so that they can create designs that reflect an existing brand identity.
To this end, Canva provides you with the option to create a 'brand hub.'
This lets you:
add a brand logo
define a color palette
upload your own font
upload your own images
add regularly-used graphics
upload your own icons
On paid-for plans, you can create multiple brand kits (100 on the 'Canva Pro' plan, and 300 on 'Canva for Teams').
Once your brand kit is in place, whenever you're creating in Canva, you can apply / add any of these brand assets to your design.
On the 'Canva for Teams' plan, you also get a couple of other features to help you maintain brand consistency across your designs:
a 'brand templates' section, where you can create and store reusable on-brand templates
a 'brand controls' section (pictured below), where you can restrict your team members' ability to use colors or fonts that are not part of your official brand guidelines.
Try Canva Pro for free – for 30 days
Canva are currently making a 30-day free trial of Canva Pro available to Style Factory readers. This gives you full access to all the Canva Pro features and assets for several weeks, and lets you export all your designs too. You can access this extended trial by clicking here — but please note that this offer will be available for a limited period only.
(You can learn more about the Canva free trial here).
---
Organizing work and collaborating in Canva
Organizing your work in Canva is pretty straightforward. A simple folder structure lets you create folders that house your designs.
If you're on a 'Canva for Teams' plan, these folders can be shared with other team members, who can then edit any designs that they contain. This works in a similar way to Dropbox and other sharing services — you simply share a folder with a team member by entering their email address into the folder's settings.
One thing you'll need to note here is that to share a folder with a team member, you have to create a 'team' in Canva first.
The 'Canva for Teams' plan gives you 5 user accounts by default, with additional charges applying when you add more team member accounts to your plan.
(More details on Canva pricing in a moment!).
Can you back up a Canva project?
Although Canva uses a traditional files and folder based approach to organizing your design, it's important to note that there isn't really a way to back up your projects using the platform.
You can recover deleted files for a set period — after deleting a design, it's kept in a trash folder for 30 days before being permanently deleted (if you delete a team, that team and its content can be recovered for up to 14 days).
While these grace periods are welcome, they're no substitute for being able to back up your projects to a device and reimport them in the event of accidental deletion of a project (or loss of access to a Canva account).
Yes, you can export your files to PNGs, JPGs etc. — but these will flatten all the layers in your design, meaning that when you re-import them to Canva, they're no longer editable.
---
Building a website with Canva
In addition to being able to create visual assets with Canva, you can technically use it to build websites too.
It has to be said however that only very simple websites can be created with the platform — you can build a one-page site 'brochure' site with Canva, but that's about it. The sites that you can make with Canva look very professional and on-brand, but you can forget about incorporating things like a complex navigation structure or ecommerce into them.
Simply put, although you can create a simple online presence with Canva (and a lot of people have: over 2 million, according to Canva), it doesn't give you the sort of professional website building features that site builders like Shopify and Squarespace do.
The site designer might be appropriate for some users' needs, however — if all you need is a basic resume site with some copy and a few pictures, it'll do the job fine. Over 900 web design templates are available which you can populate with website content easily.
When you've created your site, you can publish it in three ways:
via a free Canva site address (yoursitename.my.canva.site)
by purchasing a new domain for it through Canva (using the desktop version only)
by mapping it to a domain you already own.
---
Making products with Canva
Another interesting aspect of Canva is the fact that you can actually manufacture physical products using the platform.
To do this, you go to its 'Print products' section, where a wide range of items can be designed (45 different products in total) and purchased.
These include:
hoodies
t-shirts
tote bags
greeting cards
stationery (notebooks, brochures, diaries etc.)
photo gifts (books, mugs, prints etc.)
marketing printables including yard signs and retractable banners.
In a nice 'ethical' touch, Canva runs an ecological scheme to offset the environmental impact of manufacturing a product through the platform: for every order made, Canva plants one tree.
Ultimately though, I'd view Canva's product manufacturing option as a 'nice to have' feature rather than a core one.
First, all the products available are quite expensive, meaning that you can't really make something, mark up on it, and sell it to somebody else. The cost price of a t-shirt is around $25, for example.
Second, the number you can order at once is capped — when testing the feature, any item I tried to manufacture was limited to 50 copies. This makes the option unsuitable for anyone wishing to mass produce items — such users would be better off using a dedicated print on demand solution like Printful or SPOD instead.
Finally, it's worth noting that printed products created with this feature can't be shipped to all countries yet (this is a particular issue where African nations are concerned).
Have you seen our Canva vs Adobe Express comparison?
Additionally, you need to be careful regarding using stock imagery on items that you print from Canva — various licensing restrictions apply. The below video explains some of the issues involved.
---
Apps and integrations
Like a lot of other SaaS (software as a service) products, Canva provides a range of apps and integrations that add functionality or help it integrate more neatly with other popular services.
At time of writing, 154 are currently available, which you'll find in its 'app directory,' pictured below.
The apps on offer generally are to do with adding special effects to your images, or retouching them; but some add more 'key' functionality too (apps are required, for example, if you want to draw with Canva or create digital art).
The integrations available generally help you import images or videos from other apps into Canva. For example, you can connect your Canva account to services like Google Photos, Google Maps, YouTube and Facebook and bring content in from them (which you can then incorporate into your designs).
A particularly useful app for many users will be the 'Mockups' one (previously 'Smartmockups'). This lets you see how your design will look in context in the 'real world' — for example on a book cover, in a picture frame, in a smartphone etc.; it can serve as a built-in alternative to the similar 'PlaceIt' mockup generator.
If you're in search of original imagery to use in your designs, you might be interested in Canva's new 'text to image' generator app (currently available in BETA mode).
This app lets you enter a phrase that, thanks to the magic of AI (artificial intelligence), is automatically converted into a new image for you. 18 styles are available, presented in three categories: photography, digital art and fine art.
I tested this app out by entering the phrase 'David Bowie eating cheese' into Canva, and I got the below result for its 'colorful' digital art setting.
Another app we found particularly useful while testing Canva was 'Typecraft,' which lets you bend, warp and twist text in lots of interesting ways.
Oddly however, I couldn't find any Canva apps for popular website builders, like WordPress, Wix, Squarespace and Shopify. These are all services that could definitely benefit from an integration with Canva, because it is so good for producing web graphics, product mockups and blog banners.
Email marketing services and CRM tools are catered for, however — integrations are available for popular tools like Mailchimp, Hubspot, Constant Contact and Activity Messenger.
If the apps on offer aren't enough for you, you could always consider building your own — a developer's platform for Canva provides access to the platform's API and lets you create your own 'content extensions' that let you integrate Canva with other tools in various ways. (Obviously you'll need the development skills to do this.)
---
Using Canva on mobile phones
As you'll have noticed from the screenshots on this post, I've largely based this Canva review on the browser-based version of the app (for the record, the desktop versions for Mac OS and Windows are very similar to to this).
You can however also use Canva on a mobile device, thanks to iOS and Android apps that are available for the platform.
The app scores exceptionally highly on the Google Play app store, with a 4.8 out of 5 stars; however, iOS users seem a bit less impressed however, awarding it 3.6 out of 5 stars.
In my own test of the app, I found that it was really easy to use, providing an interface that was very similar in nature to the desktop version (albeit squashed down a bit!).
And we are not talking about a cut-down version of the platform here; you can do serious work with Canva on a smartphone.
That said, I'd still be inclined to use the browser or desktop-based version of Canva wherever possible: editing photos and videos on a phone is rather fiddly and I don't enjoy doing that much!
But for people who are on the move and want to put together a slick-looking video for social media platforms really quickly, Canva's mobile apps are an excellent option.
---
Customer support
There are two ways to avail of customer support from Canva.
First, there's the Canva help center, which contains a searchable archive of help resources and how-to guides.
There's also email support. The form for this is easy to access — with some other online apps, you don't get to see contact details until you've searched a help center for a solution to your problem first, but Canva makes the them very easy to find (googling 'contact Canva support' should sort you out pretty quickly).
In terms of turnaround times for support queries, these vary according to plan:
Canva Pro – within 24 hours
Canva for Teams – priority support within 24 hours
Print — within 24 hours
Canva for Nonprofits and Canva for Education – within 48 hours
Canva Free – 1 week
It's a shame that phone or live support isn't available, but the fact that users of the Canva free plan get support is commendable, and given the low pricing point of Canva, it's fairly understandable that customer service is email-only.
And speaking of pricing…
---
Pricing and value for money
So far, we've looked at all the key features of Canva; but not its pricing. Let's dive into that now.
Canva pricing plans
There are three main versions of Canva to consider:
Canva Free — $0 per month
Canva Pro — $14.99 per month (for one user)
Canva for Teams — Variable pricing (starting at $29.99 per month for up to 5 users)
If you pay for your Canva plan on an annual basis, a discount of 16% is applied.
Subject to a vetting process, free or discounted plans are provided to educational organizations (via the company's 'Canva for Education' and 'Canva for Districts' plans). Similarly, and again subject to eligibility checks, non-profits can use Canva for free too (via the 'Canva for Nonprofits' plan).
In terms of the differences between these three plans, the key things to watch out for are as follows:
Seats — the number of users varies by plan, with the free plan and Canva Pro both providing just one user account, and the 'Canva for Teams' plan letting you purchase multiple seats.
Templates — the paid-for plans give you considerably more templates than the free one. You get a whopping 610,000 templates to play with on the 'Canva Pro' and 'Canva for Teams' plans (but you still get access to a very generous 250,000 free templates on the $0 plan).
Images and videos — the paid-for plans give you access to nearly 10 million stock photos, videos and graphics; the free plan gives you a large range of photos and graphics ('hundreds of thousands,' according to Canva), but no videos.
Brand hubs – if you want to use your own brand colors and fonts easily in Canva, you'll need to be on a paid-for plan. On the 'Pro' plan, you can create up to 100 brand kits; on the 'Canva for Teams' plan, the limit is 300.
Storage space — the free plan gives you 5GB of cloud storage; the 'Pro' plan provides 1TB; and on the 'Canva for Teams' plan, you get 1TB per user.
Transparent backgrounds — if you want to output a design with a transparent background, you'll need to be on a premium plan.
User controls – only the 'Canva for Teams' plan provides controls over what can be uploaded to or edited in Canva.
Support — as discussed above, response times are quicker if you're on a pro version of Canva (with turnaround time for queries being considerably quicker on the 'Canva for Teams' plan).
(Note: our Canva Pro vs Free comparison spells some of these feature differences out in more detail).
Value for money
There's no doubt about it: Canva offers you a lot of bang for your buck.
For a relatively small monthly fee, you can enjoy access to a wide range of design tools and visual assets that let you create extremely professional results, extremely quickly.
Not just you, necessarily — 5 seats are included by default on a $29.99 'Canva for Teams' account. By any stretch, this represents very good value, particularly for small business owners on low budgets.
And, when you consider that Canva's monthly fee is less than what you'd pay for just one stock photo from Getty or iStock, but gives you access to millions of stock images and videos, this sense of value for money becomes even more pronounced.
It's worth pointing out however that oddly, Canva becomes more expensive on a per-user basis if you purchase more accounts (the reverse is often the case with other apps). For example, if you have 5 users in your Canva account, the average monthly fee per user is just $5.99. But if you increase the number of users to 50, the per-user price rises significantly — to $13.49 per user.
Even so, you need to remember that many business apps requiring a monthly subscription typically cost a lot more than Canva — the SEO apps we review, for example, typically range from $99 to $400 per month in price, and come with extremely small seat counts. So despite Canva's slightly strange approach to seat pricing, I'm still struggling to think of any product that we've reviewed to date that offers quite so much functionality for such a low price.
Canva Free vs Pro video comparison
---
Canva review conclusion
Overall, Canva is a really solid, easy-to-use app that is packed with features that make designing visual assets simple. Whilst not always a substitute for a professional graphic design tool or video editing application, it is considerably easier to use than such tools, and in many contexts will do the job just as well as them (and more cheaply, too).
The main downsides of Canva are the fact that it's output formats are limited; there's no way to back up projects; and support is email-only. Of those three flaws, the output formats issue is the most significant, as it limits your ability to start a design in Canva and have it finished off by a professional designer in another app. But given how cheap Canva is, it's hard to feel too annoyed by these omissions.
I'll leave you with a summary of the key pros and cons of Canva, and you'll also find some information on some alternative tools below.
---
Key pros and cons of Canva
Pros of using Canva
It's extremely good value — for a very small monthly fee you and several other users can get access to a host of design tools and millions of bundled graphics, photos and videos.
The Canva features are extremely easy to use, even if you don't have any graphic design skills.
The free plan is very usable, and even comes with support.
Its brand kit option and the way it lets you upload your own photos and typefaces make it easy to ensure brand consistency across designs produced in Canva.
It provides a fantastic way not just to create promotional material, but, thanks to its graphic features, statistics too.
If you're on a 'Canva for Teams' plan, you'll find that Canva makes it extremely easy to collaborate on designs.
Its 'Magic Resize tool' makes it extremely easy to create lots of visual assets at once.
Canva's mobile app is extremely functional and is particularly good for creating 'on-the-go' visuals for social media marketing.
It provides an easy way to produce one-off printed items.
Cons of using Canva
The formats you can output your visuals to are quite limited, with the lack of an 'export to PSD' option being a particular concern.
Canva is an online graphic design tool — so if you don't have Internet access, you won't be able to work on any of your designs.
There's no obvious way to back up your projects.
There's no phone support.
The range of apps and integrations provided is fairly limited.
The free version, while generally very useful, doesn't let you export images with transparent backgrounds.
The new 'Magic Write' feature, while useful for generating content ideas, is not yet suitable for generating professional copy.
The pricing structure for Teams is a bit odd — and penalizes the addition of more users to your account.
Our overall score: 4.8 / 5
---
Alternatives to Canva
There are quite a few alternatives to Canva available.
Browser-based alternatives
In terms of browser-based apps, key alternatives include Visme, Adobe Creative Cloud Express (formerly Adobe Spark) and VistaCreate (formerly Crello). These are similarly affordable graphic design tools that let non-professional designers create visual material easily. (If you're interested in learning more about these tools, we have Visme vs Canva, Adobe Express vs Canva and Canva vs VistaCreate comparisons available.)
Adobe apps
It's tempting to think of desktop Adobe applications like Photoshop, Illustrator and Premiere (and other tools you get in an Adobe Creative Cloud subscription) as direct alternatives to Canva. But they are actually quite different beasts.
While Canva comes with a built-in library of graphics, stock photos and videos, when using the Adobe apps, you often have to source assets 'outside' of them. But they are nonetheless great tools for putting visual assets together with, and at the end of the day, considerably more functional than Canva.
(You can learn more about the differences between Adobe Photoshop and Canva in our in-depth comparison of Canva and Photoshop.)
Canva vs Photoshop — video comparison
Web design tools
Although Canva can technically be used as a web design tool, the truth is that there significantly better platforms available for building websites — just a few examples include Squarespace, Webflow, Wix and Shopify.
Print-on-demand tools
If a key aim of using Canva is to create printed materials or physical items with it, you might also want to investigate dedicated print-on-demand apps like Printful or Printify. These tend to come with larger and cheaper product ranges, and facilitate the production of greater number of items in one go.
You can learn more about Printful in our 'What is Printful?' guide and our in-depth review of the platform.
Canva review FAQ
What are the advantages of Canva?
The main advantages of Canva are that it's easy to use, cheap, and feature packed — not only can you design visual content with it, you can also use the tool to create videos, presentations, digital art and even websites.
What are the disadvantages of Canva?
The main disadvantage of Canva is that its range of output formats is quite limited, meaning that the projects you export from the platform can't be easily edited by professional graphic designers in other tools. Other disadvantages include the fact that no phone support is available for the tool and its options for backing up your work are limited.
Is Canva good for beginners?
Canva is extremely easy to use. You won't need any graphic design skills to create projects with the tool (although an eye for design will of course help).
Can I use Canva for free?
Yes. A cut-down free version is available, or alternatively you can make use of a 30-day free trial of the 'Canva Pro' version.
How we tested this product — and why you can trust this review
We tested this product via independent research and, more importantly, hands-on experience of it.
We regularly use Canva for creating our own visual assets and have extensive knowledge of how the tool works. So this Canva review is based on creating many designs and videos from scratch; editing existing ones; and using Canva apps in conjunction with the tool.
And finally, we have a strict honesty policy — while we do make use of affiliate advertising to fund our research and testing, we strive to be 100% impartial in all conclusions.
Additional Canva resources from Style Factory
To learn more about Canva, do check out our new Canva resources hub. This contains all our latest Canva reviews and comparisons, a 'What is Canva?' explainer guide, and a series of how-to guides that help you get the most out of this popular design tool.
Now…over to you
Got any thoughts on our Canva review? Our any questions you'd like to ask about the tool? Leave them in the comments section below.