This is an independent review, but note that it contains affiliate ad links. When you buy via these, we may receive a commission, at no extra cost to you.
Printful vs Printify: which is better? In this detailed comparison, I'm going to help you find out! Read on to discover all the key pros and cons of these two leading print-on-demand solutions and learn about the best alternatives to them.
---
The quick verdict
Reasons to use Printful instead of Printify
The main reason to use Printful instead of Printify involves the number of ecommerce platforms and online marketplaces it works with — 22 in total. By contrast, Printify just works with 10, and unlike Printful, it doesn't give you a direct integration with Amazon.
Additionally, Printful is the more feature-rich tool, giving you more branding options, mobile apps, a better product design tool and extra fulfillment options.
And finally, creating products in Printful is much simpler. Because it handles every aspect of printing and fulfillment, you are only presented with one set of pricing and shipping details for each product, rather than lots of competing options from multiple suppliers (as is the case with Printify).
Reasons to use Printify instead of Printful
Printify beats Printful when it comes to its product range: it offers more than twice the amount of printable items as Printful. Additionally, it lets you choose from a very large range of print suppliers, arguably giving you more say over the order fulfillment process.
Printify also offers a couple of options that you don't get in Printful, such as the ability to create a simple standalone store for your products and an outsourcing service for customer queries.
Let's begin the full comparison with an important question…
---
What are Printful and Printify?
Printful and Printify are print-on-demand (POD) services that let you design, print and sell custom merchandise through your own online store or via an ecommerce marketplace like Amazon, eBay or Etsy.
Unlike traditional printing companies — which require you to pre-order a large quantity of items in advance of selling them — POD services like Printful and Printify operate on a made-to-order business model, meaning that products are only printed when one of your customers places an order for an item.
This makes using these services a low-risk affair, because you avoid paying upfront inventory costs entirely.
Both platforms give you a a large selection of printable products that can be customized with your designs, but in addition to printing these products for you, Printful and Printify also package these up and deliver them to your customers.
Generally speaking, selling with either service involves three steps:
picking one of their products
customizing it (by adding image and text)
setting your own retail price for the item (by marking up the product's price)
Let's take a look at the background to both services.
---
Company backgrounds
Printful was founded in 2013 by Latvian-born businessman Lauris Liberts, who came up with the idea for Printful while running an on-demand poster company from his living room.
10 years later, Printful now owns and runs 15 printing and fulfillment centers across 4 continents and has a staff of around 1,600 people.
Printful has delivered some 71.5 million items to date, with a current average of more than 1 million items being delivered each and every month. The company is currently valued at approximately $1 billion US dollars.
Interestingly, Printify also has its origins in Latvia. The company was started in Riga in 2015 by a trio of business people — Artis Kehris, Gatis Dukurs, and James Berdigans.
Since then, Printify has delivered over half a billion dollars worth of products.
At time of writing, Printify employs around 650 people and is valued at $300 million US dollars. The company counts Virgin Group and clothing giant H&M among its investors.
2 different approaches to the print-on-demand business model
While both Printful and Printify provide very similar services to ecommerce merchants aiming to source, sell, print and deliver POD products, there is a significant difference in how they this.
In the case of Printify, the company basically operates as a classic broker or 'middle-man'. Rather than acting as your printer, Printify connects you to a large range of third-party print companies — you can choose which supplier to go with on a product-by-product basis.
By contrast, Printful IS a printing company that handles the entire fulfillment process for its users.
It owns a substantial network of printing facilities, and the large majority of Printful products are printed in-house, using print procedures that Printful has full control over.
(Printful also works with a small number of third party suppliers — in Brazil, Japan and Australia — who are obliged to meet Printful's print standards.)
As we'll see throughout this review, there are pros and cons to each approach when it comes to several key issues, namely the range of products on offer from the two companies, product quality, customer service and print quality.
Let's turn now to what you can actually sell with Printful and Printify.
---
Product ranges
Both Printful and Printify come with product catalogs featuring a diverse range of print products.
You pick one of these products, use each platform's design tool to add some text and images to it, and make your customized version of the product available for sale in your online store.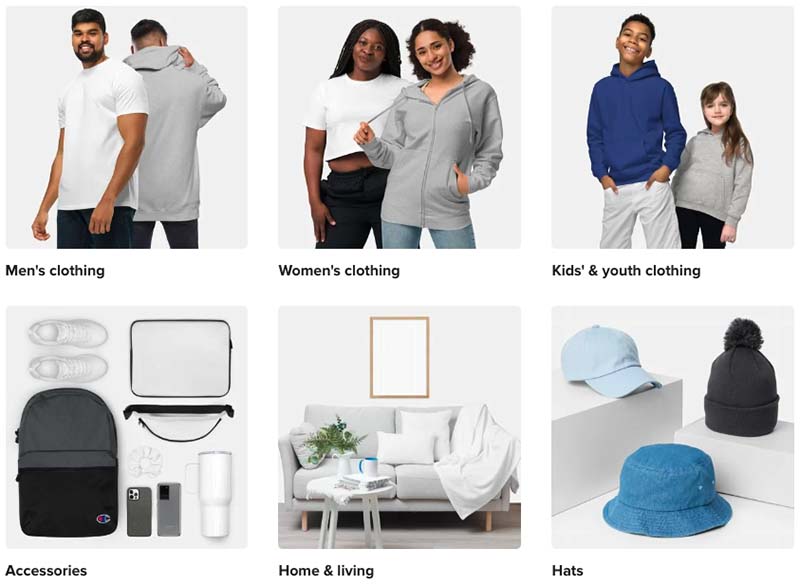 Both companies offer products across broadly similar categories, including:
Men's clothing — t-shirts, hoodies, sweatshirts, long sleeve shirts and tops, polo shirts etc.
Women's clothing — t-shirts, sweatshirts, dresses, swimwear, tank tops, etc.
Kids' clothing — t-shirts, long-sleeved tops, baby bodysuits, bibs, jackets, etc.
Home and living — wall art, mugs, stationery, blankets, towels, candles, etc.
Accessories — phone cases, tote bags, pins, face masks, etc.
You can browse Printful products here, or take a look at Printify products here.
All in all, you won't be short of choice when it comes to finding a product to customize using either solution.
That said, Printify's overall product catalog is over twice as large as Printful's. There are around 850 products available from Printify compared to 341 from Printful.
This considerable difference in product catalog size gives Printify users a lot more choice within certain product areas. Taking the men's t-shirt category as a prime example, there are around 50 different t-shirts available in Printify compared to 30 or so in Printful.
In the very popular POD category of mugs, this difference in catalog size is even more pronounced — you've a choice of around 50 mugs in Printify versus around just 5 mugs in Printful.
In both tools, picking a product to customize is pretty easy. You can either search for a particular product or use product category filters to narrow down the available options.
But once you've found a product you want to customize in either tool, there is a big difference in terms of what happens next.
This is because in Printful you're dealing with Printful — and ONLY Printful — as your print supplier. Consequently, there's only one set of key product details to consider before making your choice (color options, size availability, shipping times, etc.).
By contrast, with Printify it's necessary to trawl through all of the available third-party print providers that offer your selected product, and then pick the one you want to use to print your item.
And this can take a lot of time.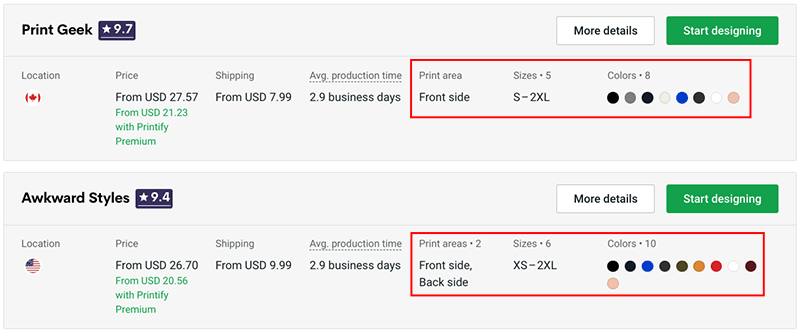 This is because — depending on the product in question — each Printify print suppliers offers slightly different pricing, shipping fees, production times, print surface options, sizes and colors.
Let's consider men's t-shirts. If you want to sell one with Printify, you'll have to choose from over 20 different printers for this item — and this requires the weighing up of well over 100 different bits of data.
While there are certainly benefits of having this level of choice (particularly where the country your items are printed in is concerned), some POD sellers may find the 'one and done' product selection process in Printful to be less of a chore.
Eco-friendly products in Printful and Printify
In an era where over 70% of consumers are actively buying more environmentally-friendly products, being able to offer eco-friendly items to your print-on-demand customers has never been more important.
Fortunately, both Printful and Printify now offer around 50 products each that come with eco-friendly credentials — you can search for these products under the 'eco-friendly' category in the two product catalogs.
These include apparel products made with organic cotton, vegan-friendly candles and ECOCERT-certified body wash.
Both companies also stock products from the Stanley / Stella product manufacturer. This company uses 100% organic cotton that is grown from non-genetically modified seeds and cultivated without the use of chemicals.
---
Print quality
Printful and Printify offer a similar range of printing techniques for producing your finished custom products.
These include:
Direct-to-Garment (DTG) Printing
This method allows for detailed and vibrant designs to be printed directly onto garments.
Sublimation Printing
Sublimation printing involves transferring ink onto a substrate using heat. It is commonly used for products like mugs, phone cases and various home decor items.
All-Over Printing
This technique allows designs to be printed across the entire surface of a garment or product, providing a seamless and eye-catching look.
UV Printing
Often used for printing phone cases, UV printing involves using UV light to cure ink graphics, which results in the formation of a hard coating finish.
Digital Printing
This is a versatile printing method that can be used for a range of products, including posters, canvas prints, and stickers.
Cut and Sew
This option enables the creation of custom apparel from scratch. Patterns are printed on fabric which is then cut and sewn together to produce unique designs.
Embroidery
Both Printful and Printify offer embroidery services, allowing you to add stitched designs or text to apparel items like hats, beanies, and shirts.
By and large, the finished printed products from both platforms are strong, and both companies go to great lengths to stress the robustness of their quality assurance processes.
However, it is fair to say that based on user reviews — both within each platform and in app store reviews (for Shopify, Wix, etc.) — there are noticeably fewer complaints about the quality of Printful products than Printify's.
Now in fairness to Printify, the app lets users rate each and every of its 80+ third-party print suppliers with a 'Print Provider Performance Score', which does make it easier to select a printer with a track record of producing good-quality prints.
Nonetheless, with so many separate print providers involved in Printify's production processes — and, crucially, less standardization in terms of specific printing machines — this inevitably results in more varied print quality outcomes with Printify.
By contrast, since Printful products are mostly produced at Printful-owned facilities — all of which use the same machines (Kornit printers for DTG printing, Takima machines for embroidery, Mimaki Inkjet and Inkcups Helix printers for UV printing, etc.) — the quality of print you get in Printful is generally of a consistently high standard.
Incidentally, Printful is quite transparent with regard to the amount of orders it receives as returns due to issues with quality — the company reports this figure to be approximately 0.24% of all orders.
Printify has not released its equivalent return rate figure.
But ultimately, if you're serious about providing your own customers with quality products from either supplier, it is strongly advisable to order some sample products.
Doing so lets you inspect the quality of both the base product (t-shirt, hat, poster and so on) and assess the execution of your design in terms of print quality (color, definition, durability after washing, etc.).
And significantly, Printful has a clear advantage over Printify when it comes to the prices for sample orders.
This is because Printful gives store owners a 20% discount on sample orders (with one sample order consisting of up to three products allowed each month).
Additionally, it increases this discount to multiple sample orders when you hit certain sales thresholds on your store — with an upper limit of 5 sample orders permitted each month when you reach $300 in accumulated monthly sales (up to a maximum of 15 sample products).
By contrast, Printify simply charges you the standard price for ordering samples, with no special discounts available.
So when it comes to placing sample orders, doing so is definitely cheaper with Printful.
---
Designing products in Printful and Printify
Creating custom product designs
Creating custom product designs in Printful and Printify is extremely easy — both solutions give you access to very user-friendly product design tools. These both let you upload your own artwork, add text and format your design using a drag and drop editor.
In terms of uploading image files, both platforms cater for JPEG and PNG files. Printify goes one further and also lets you use SVG files (thus allowing you to use vector-based images on your products).
As for file sizes, however, Printful is the more generous platform — it accepts images of up to 200MB in size, which compares positively with an image file size limit of 100MB in Printify.
Printful also takes the win when it comes to the number of fonts you can use in your designs. It provides access to over 700 different fonts, while Printify caters for around 330.
But in both platforms, you're unfortunately limited to using built-in fonts — it's not possible to upload your own fonts from services like Adobe Fonts and apply them to your designs.
You can however add high-quality stock photos to your designs (for a fee) in both platforms. Printful has an integration with the Getty Image library (80+ million images) and Printify connects with Shutterstock (3.5 million images). Both platforms deduct a license fee when you sell a product with a premium stock image in the design — this works out at around $1 per sale in both platforms.
When it comes to removing the backgrounds of photos in your product design, you can do this easily in both platforms by using their built-in background removal tools.
When testing both background removal tools for this review, I found that Printful's background removal tool produced slightly better results. So,to remove backgrounds for Printify designs, you may have to use another piece of software first (for example Photoshop, Adobe Express or Canva) and import your modified photo to Printify for use in your design.
Both design tools also come with some free graphics that you can add to your products. With Printify, the range on offer is limited to just 150 or so. By contrast, the clip art tool in Printful's designer lets you quickly add a nice selection of over 3,000 graphics (symbols, emojis, illustrations, etc.) to your product designs.
While most of these clip art files are rather twee, there are actually plenty of print use cases where they can be put to work. And the fact that they can be sourced from within both tools is very handy.
All in all, getting your products designed in either platform is very doable, but the more fully-fledged product design tool is to be found in Printful.
Product listings
Once you've got your custom print product designed, Printful and Printify also make it easy to build a full product listing for it on your online store.
Mockups
First off, both platforms provide you with the ability to add mockups to your products. These let you show items off in a variety of ways and settings.
There's a decent range of mockups for most products available from both Printful and Printify, and both platforms let you make use of several mockup images to show your products close up and from different angles.
If you want to get creative with your mockups, however, Printful is the better option. Its mockup generator comes with 2,550+ scenes, including nature backgrounds, flat-lay table tops, home and office scenes. Abstract backgrounds, shapes and patterns can also be used.
Printify's mockup-creation functionality is more restrictive — you can customize mockup backgrounds by uploading images from your own computer, but there isn't a built-in background library to make use of.
Additionally, Printify's mockup personalization feature is currently limited to around 30 products from its collection. By contrast, Printful's mockup generator lets you customize mockups across its full product catalog of 340+ items.
Product descriptions
In addition to giving you product mockup creation tools, Printful and Printify also supply you with editable product descriptions for their product ranges.
In terms of the quality of these, during my research I found that Printful's products descriptions were slightly more comprehensive, generally providing more detailed information on product materials, manufacturing processes and styling.
And interestingly, I found this to be the case even when products were sourced by Printful and Printify from the same manufacturer.
As an example of this, consider the Printful and Printify product descriptions below for the same Gildan t-shirt:
As you can see from the above table, the amount of product information you get from the Printful description is considerably greater.
Now, it's important to edit the default description of any POD product you create, so that you can highlight your own artwork, slogan and creativity as key product features.
This is easy to do in both the Printful and Printify backends; and many of the ecommerce integrations for tools like Shopify, Wix, Etsy and Amazon also let you tweak Printify or Printful product descriptions once they have been added to your store.
And speaking of integrations, let's take a look at those.
---
Integrations with ecommerce platforms and marketplaces
Of the two platforms under discussion, Printful provides the bigger range of integrations with ecommerce services. It offers 22 integrations in all — with 19 ecommerce platforms and 3 online marketplaces.
The full list of Printful integrations is as follows:
Shopify
Etsy
WooCommerce
Wix
Squarespace
Webflow
Ecwid
BigCommerce
Prestashop
Square
Amazon
TikTok Shop
eBay
Big Cartel
Weebly
Adobe Commerce
Storenvy
Gumroad
Nuvemshop / Tiendanube
ShipStation
Shift4Shop
Launch Cart.
Printify offers its merchants a considerably smaller range of integrations — just 10 are available (6 ecommerce platforms, 3 online marketplaces and TikTok).
These are:
Shopify
Etsy
WooCommerce
Wix
Squarespace
BigCommerce
Prestashop
eBay
Walmart
TikTok (US only).
So clearly Printful provides POD merchants with far more ways to get their products to market. Plus, the fact that Printful lets you get products straight on onto Amazon — the world's biggest marketplace — is a key selling point for Printful in this head to head.
(Note: there are workarounds for selling Printify items on Amazon available — but they are messy and involve making use of multiple apps in conjunction with each other).
Printify has an edge over Printful however, in that it provides a direct integration with Walmart's marketplace while Printful doesn't.
(Again, a workaround is available — you can use Printful's ShipStation integration to get your Printful products in front of Walmart customers, but you'll need to be prepared for what Printful describe as a 'moderate' setup time.)
Featured ecommerce integration: Shopify
A key ecommerce integration that both Printify and Printful work with — and one that represents an excellent choice for most print-on-demand merchants — is Shopify. With Shopify, you can sell a mixture of print-on-demand, dropshipped items and your own items really easily; it is an excellent choice for international selling; and if you decide to start selling in physical locations, its point-of-sale technology is really strong.
If you're thinking about using Shopify with either Printful or Printify, we suggest starting your account in a particular way, however — via its dropshipping starter kit. This gives you access to a free trial, an offer that lets you use the platform for $1 per month for your first three months, and a wide range of free resources that help you set up a print-on-demand or drophipping business successfully.
In terms of user satisfaction with the various integrations available from both Printful and Printify, there's not a huge amount in it, but Printful tends to come out on top in the app store ratings of some of the more popular ecommerce platforms (see table below for a few examples).
| | | |
| --- | --- | --- |
| | Printful | Printify |
| Shopify | 4.7 stars (4,751 reviews) | 4.4 stars (1,975 reviews) |
| Wix | 4.7 stars (979 reviews) | 4.3 stars (216 reviews) |
| BigCommerce | 4 stars (50 reviews) | 4 stars (7 reviews) |
Printify's Pop-Up Store feature
While Printful is the clear winner in the integrations department, it's worth highlighting Printify's free 'Pop-Up Store' feature as a unique selling point. This lets you create a simple ecommerce store using just Printify (i.e., without having to integrate the tool with one of the major marketplaces or ecommerce platforms).
Now, compared to the type of online stores you can create with a platform like Shopify or Wix, Printify Pop-Up Stores are extremely basic. There is no range of templates to choose from, and the custom branding options are very limited — you can basically add a brand logo and that's about it.
Furthermore, you can't connect a custom domain to these pop-up store; you'll have to share URLs that have a rather clunky 'mystorename.printify.me' format.
But all that said, setting up a pop-up store in Printify is extremely quick, with no transaction fees on your sales to worry about.
So while not a replacement for a fully-fledged online store, this feature definitely has its uses. It may come in particularly handy for merchants who are on a very low budget, or those whose selling is generated more by social media than organic traffic.
---
Branding options
The extent to which you can present your customers with a strong, consistent brand presence for your POD business is a key consideration when choosing a print-on-demand supplier.
By building a robust brand across all customer touch points, your online business can cultivate lasting relationships with customers, drive repeat purchases and ultimately establish a strong foothold in the competitive POD market.
So how do Printful and Printify compare when it comes to branding options?
Well, first let's take a look at how they let you brand your products.
With Printify you've got two options here — you can add an inside neck label and / or a sleeve label to clothing products. It's worth mentioning that neck labels only available from 6 of Printify's print partners, and sleeve prints are only available with 4 suppliers (with only 1 supplier — 'SwiftPOD' — allowing you add both).
Printful goes further here, also letting you add an outside label to clothing items and hats — and, since you're only dealing with Printful as your print provider, this option is available across the full Printful clothing catalog.
In my view, the ability to add an outside label to your customized creations is actually quite an important feature. It means that when people wear your 'externally-branded' products, they will in effect be advertising your POD products for you wherever they go.
So, the first win in the branding battle goes to Printful.
Next up — do Printful and Printify let you brand your product packaging?
In the case of Printify, the various print providers involved use good quality 'white-label' mailers, boxes, packing tubes and so on, but it's not possible to add your brand to these in any way.
Similarly, Printful doesn't let you add your brand or logo to its in-house packaging range. However, the good news is that it's possible to send Printful your own branded packaging in which to ship your products.
Doing so involves additional costs from Printful for storage ($1.60 per cubic foot) and picking fees ($0.50 per mailer), but Printful nevertheless gets a thumbs-up for giving you some options on this front.
(For the record, Printful recommends 'Sticker Mule,' 'Arka' and 'PackHelp' for creating customized branded mailers.)
A related branding is the ability to add a range of 'custom packaging inserts' to your packed products.
With Printify, you're limited to adding a printed card to your packages, and this option is only available from a selection of Printify's print partners.
By contrast, Printful gives you a choice of adding flyers, coupons, business cards, branded stickers, postcards and thank-you cards to your packages, and you can do so across the full Printful product range.
All of these options make it possible for you to use Printful to create a genuine 'unboxing experience' for customers when they receive one of your products.
And there's no doubt that the option to include packaging inserts can help your business create a more personalized experience for customers. With over 70% of consumers expecting companies to deliver personalized interactions, the potential benefits of this for your POD brand are not to be underestimated.
So, when it comes to branding options both 'on' and 'in' your product packaging, it's a clear win for Printful.
Offering product personalization to your Printful customers
A key feature that you get from Printful but not from Printify is the ability to let your customers personalize your products, by adding their own text or images to them at point of purchase.
Printful's product personalization option can be used with Printful's embroidery, DTG and wall art products; and it's currently available for merchants using the Shopify, Etsy and WooCommerce integrations.
Setting this up is very easy. You simply enable the personalization tool when creating a new product, set your personalization options (text and / or image) and add the product to your store. This adds a 'Personalize Design' button to the product listing in your storefront.
You can learn more about product personalization in Printful here.
---
Production times and fulfillment services
On the whole, Printful and Printify take a similar amount of time to get your orders printed, packed and ready for shipping to your customers.
Printify states that its average fulfillment time across its product catalog is 2-7 days.
Printful's equivalent fulfillment time is reported by the company as 2-5 days on average. In fact, the company claims that 97.66% of Printful orders are shipped within 5 days and that over 50% of all orders are shipped within 3 business days or fewer.
In Printful, you only face one set of production time estimates, whereas in Printify, there are multiple production times for each item, depending on which Printify print partner you choose to work with.
Tip: if using Printify, before you commit to printing your product with any one particular print provider, it's a good idea to check the 'average production time' information in the Printify catalog (pictured above).
Then, go its 'Print Provider Status page (pictured below) before designing your product. This lets you see accurate daily status updates on production time estimates for each Printify partner.
Now, it's worth pointing out that Printful offers some potentially very useful fulfillment services that aren't available from Printify in the form of warehousing and fulfillment services for other goods you sell on your store (i.e., products you're not sourcing via Printful).
This works in the same way as other warehouse fulfillment services, such as Amazon's FBA service or the Shopify Fulfillment Network, which let you send your own products to them for storage, packaging and shipping.
Pricing for Printful's warehousing and fulfillment service is competitive, with fees ranging from $0.80 to $1.60 per cubic foot and a minimum monthly charge of $150 in the US (additional fees apply for order picking and adding branded pack-ins to your packages).
So, if you've got an ecommerce store that does a fair bit of business through Printful but also features a product range from other sources, it may be worth comparing your current warehousing costs with those offered by Printful.
You can find out more about how Printful acts as a warehousing and fulfillment company on the Printful website.
---
Shipping
Printful and Printify are two of the best print-on-demand companies for shipping your products to your customers.
Both companies partner with reputable shipping carriers including FedEx, DHL, UPS and DPD; and unlike several other print on demand services, Printful and Printify give you the option to display real-time live shipping rates from these companies in your product listings.
(Note however that the ability to display live shipping rates depends on the ecommerce integration you're using for your storefront — not all integrations support this).
By way of comparison, here are some Printful and Printify shipping rates for fullfilling some identical items to US customers.
| | | |
| --- | --- | --- |
| | Printful | Printify |
| Bella + Canvas 3001 t-shirt | $4.69 | $6.59 (Duplium) |
| Gildan 5000 t-shirt | $4.69 | $6.59 (Duplium) |
| Gildan 18000 sweatshirt | $8.49 | $9.59 (The Print Bar) |
| Rabbit Skins 4400 body suit | $3.99 | $5.19 (Printed Mint) |
| Phone case | $3.99 | $2.59 (WOYC) |
As you can see from the table above, there is not a huge amount to separate the two companies in terms of shipping costs for some of these popular POD items. Printful is a bit cheaper in 4 out of the five examples, but if you're selling phone cases, Printify comes in a lot cheaper.
The key thing to be aware of is that in Printify, the shipping rates for your product will depend on which print provider you choose.
Taking the bestselling Bella and Canvas 3001 t-shirt as an example, this costs $6.59 to ship to the US with Printify's 'Duplium' print partner, but only $4.75 with with another highly-rated Printify supplier, 'Monster Digital'.
So if you're using Printify, it's really important to shop around for the best shipping rates from the available suppliers.
Now, if you're a POD seller who sells goods to customers in multiple countries around the world, it's important to note that Printify international shipping can get quite expensive.
Let's use the Bella and Canvas 3001 t-shirt as an example again. If I had created this product with the US-based Printify partner 'Underground Threads,' it would cost $9.39 to ship it to Canada, $10 to ship it to the UK, and $12.49 to ship it to Australia — thus creating a situation where it cost nearly as much to ship a product as to print it.
Now, Printify does offer a workaround for this issue by providing you with an 'order routing' tool to switch between providers (helping consumers end up with the best shipping price for their location).
However, this only works with single product orders — so, if an international customer orders multiple products from your store at once, you won't be able to reroute their order to more convenient print locations.
With Printful, you don't face these issues with international shipping as you're only ever dealing with a single supplier — and the platform automatically directs your order to one of its in-house print facilities based on that facility's proximity to your customer. Consequently, international shipping rates with Printful tend to be considerably lower than Printify's.
For example, shipping the Bella and Canvas t-shirt to Canada with Printful would cost $8.29 ($1.10 less than Printify), delivering it to the UK would cost $4.49 ($5.51 less than Printify); and sending it to Australia would cost $7.19 ($5.30 less than Printify) — all of which adds up to substantial savings for you and your customer.
So overall — and especially where international shipping is concerned — it's a win in this department for Printful.
---
Interface and ease of use
Printful and Printify are both straightforward to use — both feature a simple, user-friendly interface that provides easy access to all the key print-on-demand tasks: setting up products, integrating with selling platforms and managing orders.
In Printful, you use a detailed menu on the left hand side to choose what you'd like to do (go the product catalog, manage your stores, view sales statistics, etc.) and the right hand side of the screen allows you to carry out your chosen task.
Printify's interface takes a slightly different approach. Its menu is located at the top of the screen and contains direct navigation links to only a few general topics (Catalog, My Products, Orders, Store and Help).
From a user experience point of view, I personally prefer the design of Printful's dashboard — its 'all-in-one' menu makes it a bit easier to jump straight into various details rather than having to open additional windows to find certain settings (as is the case when using Printify).
Printful's interface design is also quite similar to those of some of the ecommerce platforms it integrates with (Shopify, Wix, Squarespace etc.) — so if you've any experience with these programs, starting out with Printful will feel quite familiar.
Of course, evaluating interfaces and user experience can be a subjective process, and it's fair to say that Printify's interface design certainly lets you get the job done without major headaches (it's just that a bit more clicking is required at times!).
Probably the most important ease-of-use question when it comes to print-on-demand platforms like Printful and Printify is how easily you can design your products in the tools.
The good news here is that both platform's product designer tools are really great from a usability perspective — they're fast, make it really easy to upload designs, and they both (commendably!) feature layer controls to let you control the stacking order of elements in your product designs.
So all in all, both platforms' interfaces get high marks, and neither should present too much of a learning curve to new users, especially those who have used a content management system in the past.
---
Printful vs Printify pricing
It used to be the case that Printify was the clear winner in a pricing head-to-head with Printful.
However, due to the fact that Printful recently abolished all its monthly subscription fees — and implemented significant price cuts of 6% to 9% to many of its products — the overall fees involved for both platforms are now fairly similar.
I'll get to a direct product pricing comparison in a moment. But before that, let's take quick look at at the monthly cost of using each platform, starting with Printify.
Printify pricing
Printify offers merchants 3 different pricing plans:
Free: $0 per month
Premium: $29 per month
Enterprise: Custom pricing
All Printify plans let you create an unlimited number of products, provide access to all 10 of Printify's ecommerce integrations and let merchants create manual orders and import custom orders.
The $29 per month 'Premium' plans gives merchants 3 key additional features:
It lets you use Printify with up to 10 online stores (the 'Free' plan lets integrate Printify with up to five).
It gives you up to 20% discount on all products.
It lets you use 'Printify Connect' — this gives you the option to let Printify's customer support staff handle customer order emails and customer queries for products they buy from your store.
Finally, a word about Printify's 'Enterprise' plan. This is for large POD businesses (those with 10,000+ orders per day); it provides a custom API integration along with a dedicated account manager and branded customer support.
Pricing for this is negotiable based on the specific needs of your business.
Printful pricing
As mentioned previously, Printful no longer operates a monthly pricing model, which means it's now completely free to set up a Printful account, access all its design tools and add custom products to 20+ ecommerce platforms.
There are certain occasions when you will have to pay extra to use Printful features, however. Fees apply when you want to add extra branding to your products and packages; make use of additional Printful options such as graphic design services; or if you want to store non-Printful items in a Printful warehouse.
Prices for some of Printful's premium services are as follows:
Branded packaging insert storage fees — $0.80 to $1.65 per cubic foot of storage.
Branded packaging insert picking fee — $0.50 per pack-in added to order.
Warehousing storage fees — $0.80 to $1.60 per cubic foot of storage.
Custom packaging picking fee — $0.50 per mailer.
Adding a custom 'inside label' to a garment — $2.49 per garment.
Adding a custom 'outside label' to a garment — $2.49 per garment.
Product photography (via Fiverr) — from between $100 and $345 per product (depending on the photographer).
Apparel design services (via Fiverr) — starting between $10 and $350 per product (depending on the designer).
Like Printify, Printful also offers businesses an enterprise solution to cater for large-volume operations: Printful Enterprise. The company boasts quite a few big names as enterprise customers, including Coca Cola, MTV, CBS, NBC and the Star Trek franchise.
Pricing for 'Printful Enterprise' can be negotiated with Printful's sales team.
Now, let's take a look at the cost of printing products in Printful and Printify.
Product pricing in Printify and Printful
There are two key factors to take into account when comparing the prices of Printful and Printify product.
First, the fact that both companies offer discounts.
With Printify, you get a 20% discount once you pay for its $29 per month 'Premium' plan.
In Printful, you can access discounts ranging from 20% to 33% through its 'Printful memberships' program.
Access to Printful's discount scheme is based on annual sales volume — with merchants selling over $12K worth of products per year getting access to 'Growth' membership discounts, and those selling over $60K worth of products each year getting access to 'Business' membership discounts.
(Merchants whose annual sales volume isn't yet at the $12K per annum mark can also opt to pay a $24 per month fee to access the 'Growth' membership discounts.)
The benefits provided by each membership are as follows:
Printful Growth membership
up to 20% off direct-to-garment products
up to 30% off other product categories
7% off product branding
Printful Business membership
up to 22% off direct-to-garment products
up to 33% off other product categories
9% off product branding
25% off sample orders
free digitization fee for all embroidered products (a saving of $2.95 – $6.50 per product)
The next factor to take into account is the fact that Printify's print suppliers each have different pricing for any one product.
For example, it costs $13.76 to print a Gildan 18000 sweatshirt with one Printify supplier ('Duplium'), but the exact same sweatshirt costs $22.22 to print with another company ('The Print Bar').
So how big a difference you'll see between Printful and Printify product prices will depend in no small part on the Printify supplier being used.
But overall, the product pricing works out reasonably similar. Here's a couple of typical examples of the cost differences between Printful and Printify when discounts are factored in (note that the prices listed for Printify involve suppliers who have high customer ratings).
Gildan 64000 t-shirt
Printful regular price: $9.25
Printful price with 'Growth' discount: $8.55
Printify regular price: $10.79
Printify price with Premium discount: $8.06
Gildan 18500 hoodie
Printful regular price: $21.95
Printful price with 'Growth' discount: $17.75
Printify regular price: $22.10
Printify price with Premium discount: $17.68
Essentially, the key takeaway on Printful vs Printify product pricing is that prices for many of the most popular POD items in both platforms are very close and that in truth, it's probably the shipping costs that are worth zooming in on as the key differentiator.
Download our free ecommerce e-kit
For a limited time, we're offering our readers some excellent free tools. Sign up free to immediately receive:
our online store comparison chart
a downloadable cheatsheet on how to create an online store
our SEO, blogging and 'how to start a business' cheatsheets
extended free trials and discount codes for essential business apps
our latest tips on ecommerce and growing a business
---
Mobile apps
Another area where Printful wins over Printify involves mobile apps. Printful has both iOS and Android apps available, while Printify only provides an Android version (and this is only available in Beta).
The iOS version of the Printful app gives you full access to a mobile version of Printful's product designer and it has received very positive user reviews on the Apple app store — users currently rate it at 4.7 out of 5.
However, Android users are less satisfied with their version of the Printful app, only giving it 4 stars out of 5 in the Google Play Store. This is perhaps due to the fact that the Android app is missing some key functionality when it comes to designing products, such as the ability to add text and stock imagery. It doesn't let you resize design elements, either.
As previously mentioned, Printify's new Android app is still in early-access Beta testing (so there isn't a star rating available for it just yet).
During my tests of the Printify app, I found it to be pretty solid. It lets you design products and access most Printify account settings (orders, payments, integrations, etc.); in short, it gives you most of the functionality you need to manage your store on the go.
---
Customer support
Printful and Printify both offer two ways to contact their customer support teams — via email or live chat.
Generally speaking, response times from both customer support teams are reasonable.
(That said, while carrying out research for this article, I did encounter some issues relating to Printify's support team being 'overwhelmed with incoming requests' — as you can see in the screenshot below).
Additionally, searchable help portals are available for both solutions that essentially act as user manuals for both products. These are packed full of useful information about Printful and Printify and include plenty of tips and insights on setting up and growing a print-on-demand business.
Printful's help center definitely has an edge over Printify's where international users are concerned, however — it 's available in 7 languages (English, Spanish, Italian, Japanese, German, French and Portuguese), while Printify's help materials are only available in English.
Finally, both Printful and Printify provide free courses and webinars on all aspects of print-on-demand as part of their help center offerings.
And in a nice touch from Printful, merchants who complete its 'Printful Academy' courses receive points that can be exchanged for various goodies and perks — for example, free Printful products, discount coupons and sample orders.
(You'll find these free perks in the 'Printful Rewards' section of your Printful account).
---
Printful vs Printify: conclusion
While Printful and Printify are well-matched when it comes to pricing, print techniques and ease-of-use, I would say that overall Printful is the stronger choice for creating a print-on-demand business with.
With Printful, you get a really powerful product design tool, a wide range of branding options, optional fulfillment and warehousing services and one of the biggest range of ecommerce integrations for getting your print-on-demand products to market. User reviews of its products suggests it has the edge over Printify when it comes customer satisfaction with print quality too.
Another key reason for choosing Printful over Printify is the lack of upfront costs — Printful's discontinuation of its monthly pricing plans means that you can now access the majority of the platform's features entirely for free.
Printify does have some edges over Printful too, however. It provides much bigger range of products than Printful, and some merchants may prefer the fact that it gives you full control over which printing companies to use for creating and shipping your products.
And although you have to pay monthly fees to get the most out of Printify, its 'Premium' plan is good value, giving you a 20% discount on all products and access to the 'Printify Connect' service for handling customer queries and complaints.
Printify's 'Pop-Up-Store' feature is also worth singling out for praise — some merchants will appreciate the way it lets you create a standalone print-on-demand store (albeit a basic one) for free.
I'll finish up with a summary of the key pros and cons of both of these print-on-demand platforms — and why you might want to use each of these products over each other.
---
Printful vs Printify — pros and cons summary
Key reasons to use Printful over Printify
Printful's product designer is considerably more powerful than Printify's.
It give you a generous 20% discount on sample orders.
Printful gives you far more options for creating product mockups.
There is a a much wider range of ecommerce integrations available for Printful than for Printify (including one for Amazon).
There are more ways to brand your products and packaging with Printful.
User reviews indicate that Printful achieves a higher degree of satisfaction with print quality than Printify.
You can use Printful as the fulfillment service for all your products. Thanks to its warehousing service, Printful can take care of the storage, packing and shipment of your full product range — not just print-on-demand items.
Printful has a fully-fledged mobile app available for both iOS and Android.
It lets you offer product personalization to your customers.
It usually lets you deliver international orders more cheaply.
Printful help center support materials are available in 7 languages. By contrast, Printify's help center only contains English language advice.
Key reasons to use Printify over Printful
It gives you access to a much larger range of products. Printify's product catalog lets you choose from 850+ products — twice as many as Printful offers.
Printify's free plan lets you run 5 stores, and you can use it to create an unlimited number of product designs.
You can choose your print supplier based on location, price, production time, shipping cost and reviews from other Printify users. This gives you more say in quality control and the order fulfillment process.
Printify has a native integration for Walmart in its integrations library.
Printify's 'Pop-Up Store' lets you create a basic ecommerce website for free, which means you can sell your POD products without having to pay for an ecommerce platform.
So long as you pay for a $29 per month 'Premium' plan, you can access more generous discounted product pricing in Printify.
Printify will handle queries from your customers on your behalf through its 'Printify Connect' service (available to Printful 'Premium' plan holders only).
---
Alternatives to Printful and Printify
When it comes to creating a print-on-demand store, there are quite a few alternatives to Printful and Printify available. Here's a quick look at some of the top contenders.
Spring (formerly Teespring)
Spring is a print-on-demand company that is particularly good for selling your POD products directly on social channels such as Instagram, Twitch, Linktree, OnlyFans and Youtube. You can learn about the product creation process in Spring in the video below.
You can learn more about this product in our Printful vs Teespring (now Spring) comparison.
SPOD
SPOD is a print-on-demand company with extremely fast production. The company claims that around 95% of orders are printed and ready for shipping within 48 hours. SPOD can also potentially be connected to hundreds of ecommerce marketplaces through an integration with the 'Order Desk' software automation service.
Learn more about how SPOD stacks up against Printful in our in-depth SPOD vs Printful comparison here.
CustomCat
With over 500 printable products available, CustomCat provides a similar range of printing techniques to Printful and Printify, including direct-to-garment, sublimation, 3D dye diffusion, and embroidery finishing options. Additionally, its 'Pro' plan provides very generous discounts of 20%-40% off its entire catalog, which makes CustomCat a very attractive proposition from a pricing point of view.
You can learn more about CustomCat's production process for custom embroidery products in the video below.
Canva
Another option for starting a POD business is to use the design app Canva. This lets you create and print 45 different types of products.
Now, this popular design tool is a bit different from the other services discussed in this section, because it's a general-purpose design tool rather than a dedicated POD solution.
However, its design interface is far more powerful than those of most POD platforms, giving you access to a wider range of editing tools (brushes, photo-editors, AI design features and many more) along with a huge range of stock images and graphics that you can add to your designs.
You can learn more about Canva in our full Canva review or Canva Pro vs Free article, or for a quick explainer of the platform, watch our 'What is Canva?' video guide below.
'What is Canva?' video guide
---
Printful vs Printify FAQ
Is Printify cheaper than Printful?
Because Printify operates a marketplace model, connecting you with a network of different print providers, it is possible to find some suppliers on Printify that offer lower printing costs than Printful. That said, many prices on bestselling items from Printify's top-rated suppliers are actually slightly higher than the Printful equivalents.
What's the difference between Printful and Printify?
The key difference between Printful and Printify is that Printful offers a fully integrated print-on-demand service, which means the company handles the entire production process, including printing, fulfillment, and shipping. By contrast, Printify doesn't print your products for you — instead, it connects you to a large network of different printing companies, with the choice of supplier ultimately being up to you.
Can you really make money with Printify and Printful?
Yes. Both Printful and Printify offer you a way to create an ecommerce business with minimal costs and risks, and let you sell a wide range of customizable products easily, with full control over profit margins. To make money using the print on demand model however you'll need to develop a good business idea and build a sizeable audience for your products. The latter task will usually involve investing in digital marketing techniques like online advertising, search engine optimization and blogging.
Is signing up for Printful free?
There are no monthly costs involved with using Printful. However, you will be charged by Printful every time you sell one of their products, and additional fees apply if you use some of their more bespoke services, like warehousing or adding branded inserts to products.
Printify vs Printful…over to you!
If you have any thoughts or queries on Printful vs Printify, or feedback on either product, do feel free to share them in the comments section below. Do you have a preference for either print-on-demand platform? We'll do our best to answer any of your questions!