We have a strict honest reviews policy. To fund our research and testing, this post contains affiliate ad links.
In this SPOD vs Printful comparison, we take a detailed look at two leading print-on-demand solutions. Read on to see how they compare when it comes to product design, shipping options, ecommerce integrations and more…and find out which platform is better for your POD business.
The quick verdict
Key reasons to use SPOD instead of Printful
The main reason to use SPOD over Printful is its faster production times — most SPOD products are printed and ready for shipping within 48 hours of an order being made on your store. That's at least a day quicker than in Printful. Furthermore, SPOD offers your customers the option to avail of express shipping (while Printful doesn't).
Key reasons to use Printful instead of SPOD
Overall, Printful is a much more feature-packed tool than SPOD. It provides you with a 'best in class' product design tool, more control over branding for your products and packages and much better international selling options.
Significantly, Printful includes far more built-in integrations with ecommerce platforms and marketplaces — 22 in total. By contrast, SPOD just works with 4 and unlike Printful doesn't give you any free integrations with online marketplaces like eBay, Etsy or Amazon at all.
All this makes Printful the clear winner in a SPOD vs Printful shootout.
Let's dive into the full comparison with a key question…
---
What are SPOD and Printful?
SPOD and Printful are popular print-on-demand (POD) services that enable you to create, print and sell personalized merchandise through your online store or on an ecommerce marketplace like Amazon, eBay or Etsy.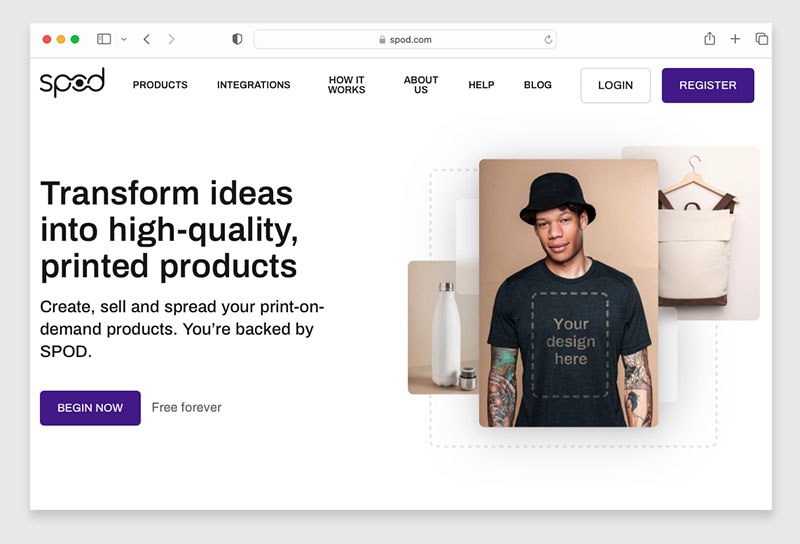 Unlike traditional printing companies, which require you to purchase a large quantity of items before selling them, SPOD and Printful follow a made-to-order business model. This means that products are printed only when a customer places an order for one in your store.
Both platforms offer a wide range of printable products that can be easily customized with your own designs. Furthermore, in addition to printing these products for you, SPOD and Printful also handle the packaging and delivery process. This means that you don't have to worry about order management, and can concentrate more on marketing your store and drumming up sales.
The process of selling with either service generally involves three key steps:
picking a product
customizing it (by adding image and text to it design)
setting your own retail price for the item (by marking up the product's price).
This simple process means that you can use either product to easily create and sell unique merchandise without worrying about inventory management or fulfillment logistics.
Now, let's take a quick look at the background of both companies.
---
Company backgrounds
SPOD was launched in Leipzig, Germany, in 2018 as an offshoot of the Spreadshirt clothing platform (hence the name 'SPOD,' which stands for 'Spreadshirt Print On Demand').
SPOD products are printed in 5 production facilities across the US and Europe, all of which are owned by its parent company.
SPOD reports that it produces around 50K products per day, amounting to almost 10 million product shipments per year.
(However, SPOD's reported production figures are actually those of the overall 'Spread Group' network — which includes five other brands — so the exact number of products produced via the SPOD service alone is probably a good bit less than that).
Printful was originally founded in 2013 by Latvian-born businessman Lauris Liberts, who came up with the concept for Printful while running an on-demand poster company from his living room.
Fast forward 10 years, and Printful has expanded significantly. It currently operates and manages 14 printing and fulfillment centers spread across four continents (see screenshot below for their precise locations). The company now has a workforce of approximately 1,600 individuals.
Over the years, Printful has successfully delivered an impressive 64.2 million items — and currently delivers over 1 million products per month to customers around the world. At time of writing, Printful's valuation stands at around $1 billion US dollars.
So, what can you sell with SPOD and Printful?
---
Product ranges
SPOD and Printful both offer extensive product catalogs that encompass a wide array of print products. To create a customized version of a product for sale on your store, you simply select an item from either platform's catalog and use their respective design tools to incorporate text and images (more on the designing process in a moment).
Both companies offer products across broadly similar categories, including:
Men's clothing — t-shirts, hoodies, sweatshirts, long sleeve shirts and tops, polo shirts etc.
Women's clothing — t-shirts, sweatshirts, dresses, swimwear, tank tops, etc.
Kids' clothing — t-shirts, long-sleeved tops, baby bodysuits, bibs, jackets, etc.
Accessories — phone cases, tote bags, pins, face masks, etc.
You can browse Printful products here, or take a look at SPOD products here.
Printful has the larger number of products available, with a collection of 340+ customizable products on offer compared to SPOD's 230 or so.
As a result, you'll find quite a few additional products available from Printful that SPOD doesn't offer. Some of these include:
Extra 'wall art' products — both platforms let you print simple posters, but Printful lets you create additional items such as framed posters, canvas prints, metal prints and flags.
Extra 'home & living' products — Printful lets you sell blankets, candles, jigsaw puzzles and coasters; SPOD doesn't.
Extra 'stickers' — Printful lets you print stickers in a wide range of sizes and formats (including 'holographic' stickers), while SPOD just caters for one single 4″ x 4″ sticker design.
Beauty products — unlike SPOD, Printful lets you sell customizable body wash and body lotion products.
Now, the product catalogs in both SPOD and Printful are very easy to browse. Both give you well-organized product category filters that help you explore the various items on offer.
Printful's catalog has a bit of an edge from a usability perspective, however. This is because unlike SPOD it features a handy search box, which makes it very quick to find a product you'd like to customize.
(Printful also lets you browse products by product manufacturer, which is a handy option to have if you want to stick with a manufacturer whose products have previously proved popular with your customer base).
So, while both platforms provide reasonably-stocked and well-presented product ranges, Printful takes the win here, thanks to its larger selection of products and more fully-featured product catalog tool.
Next, let's find out how easily SPOD and Printful allow you to create custom products.
---
Product design
Designing custom products in SPOD and Printful is incredibly simple, with both platforms providing you with easy-to-use design tools. These let you upload your own artwork, insert text and customize your products via a drag and drop editor.
Both platforms let you upload images to use in your designs in JPG, PNG and SVG file formats, but SPOD offers a few extra options on the file type front — unlike Printful, it lets users upload Adobe Illustrator files and CDR vector files too.
However, when it comes to file size limits, Printful is the more generous platform — the maximum file size you can use on your designs is 200MB, which compares very positively with SPOD's 10MB file size limit.
In terms of built-in design assets, both tools provide you with libraries of stock graphics including icons, shapes and backgrounds.
At first glance, SPOD is the more generous of the two platforms with regard to free assets — its graphics library contains around 50,000 assets in total, while Printful limits you to 3,000 pieces of free clip art.
However, Printful gives you the option to add a huge range of premium stock assets (images, vector graphics and patterns) to your design. These generally cost $1 per use each, meaning that you'll be charged a $1 license fee every time you sell a product that includes one.
Printful's premium stock photos (pictured above) are worth a particular mention. These are provided by the Getty Image Library, which gives Printful users access to a staggering 80+ million photos, all of which can be integrated into a design.
Unfortunately, SPOD's product designer doesn't come with any stock photos at all, so its users will have to source stock imagery in other third-party image libraries and upload them manually to their designs.
Printful also wins when it comes to text formatting capabilities. For a start, it supplies you with significantly more font options than SPOD — there are over 700 font families available in Printful compared to around 50 in SPOD.
Additionally, Printful's designer gives you more editing functionality when working with text. It lets you use curved text, create text outlines and apply text drop shadow effects — none of these design options are available in SPOD.
Another aspect of Printful's design maker that I am a fan of is its layer control feature. This is a tool that you'll typically find in graphic design programs like Photoshop or Canva — it lets you control the stacking order of your design elements by dragging layers above or below each other in a control panel beside the design canvas. This feature is particularly useful if you have a lot of overlapping elements in your design.
---
Branding on products and packaging
The extent to which you can present your customers with a strong, consistent brand presence for your POD business is an important consideration when choosing a print-on-demand supplier.
So how do SPOD and Printful compare when it comes to branding options?
Well, with SPOD, the branding options are pretty basic — you can add your brand logo to the sleeves of clothing products, and use colors that adhere to your brand guidelines.
Printful goes a bit further here, because (depending on the product involved) it also lets you add inside and outside branded labels to clothing products.
But what about branding your product packaging?
Well, SPOD doesn't offer the option to add your brand to its packaging materials at all. It packages your products in 'white-label' mailers, boxes and packing tubes, but doesn't let you brand these in any way.
Similarly, Printful doesn't let you add your brand or logo to its own packaging either. However, it does give you the option to send your own branded packaging to Printful to ship products in. This comes with additional costs for storage ($1.60 per cubic foot) and picking fees ($0.50 per mailer), but it does give you a way to brand your goods.
In addition to its branded packaging option, Printful offers another branding feature that you don't get with SPOD. You can include various 'custom packaging inserts' with your packed Printful products for a small fee.
These inserts can include flyers, coupons, business cards, branded stickers, postcards, and thank-you cards.
The fees for adding these items to your Printful packages are as follows:
Branded packaging insert storage — $0.75 to $1.65 per cubic foot of storage.
Branded packaging insert picking — $0.50 per pack-in added to order.
You can easily handle all branding options in the 'branding presets' section of your Printful dashboard. Here, you can apply branding settings throughout your entire store or select unique branding combinations for selected products in your Printful account.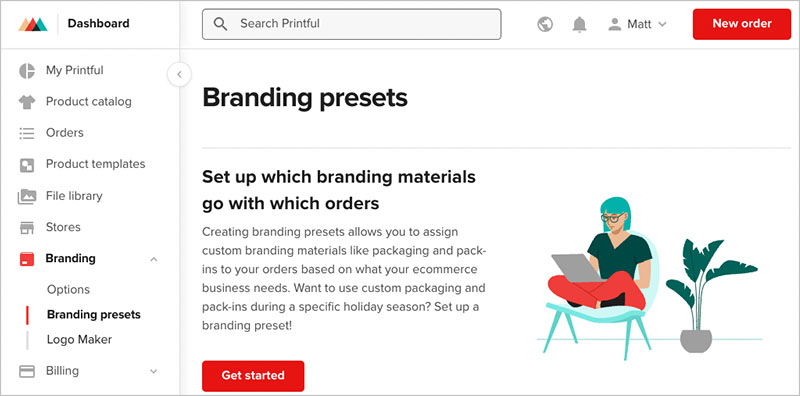 Overall, it's fair to say that when it comes to product design tools and branding options, Printful wins.
Next, let's talk about shipping.
---
Shipping and delivery
The first thing to consider when comparing SPOD and Printful's shipping services is each company's production time — the length of time it takes to print and package your item so that it is ready to be delivered.
SPOD wins here: over 50% of its orders are ready to be shipped within 24 hours of an order being placed on your store.
By contrast, Printful reports that most orders are ready for shipping within 3 days or fewer, which is a pretty decent average turnaround time compared to many other POD suppliers — but not as quick as SPOD.
Next, how much do SPOD and Printful charge for shipping?
SPOD and Printful operate different ways of charging for the shipping for your goods.
SPOD charges for shipping based on the value of your goods, with different shipping rates in place depending on the country or state your goods are being sent to.
Printful applies shipping fees based on product type — there's one set of rates for t-shirts, another for bags, another for home decor items and so on. There are around 22 product categories in all, each with different rates depending on your customer's location.
(Helpfully, both companies provide shipping calculators to help you work out shipping costs. You can use SPOD's shipping calculator here and Printful's shipping calculator here).
See the table below for a sample cost comparison of shipping charges from both companies for popular POD products.
| | | |
| --- | --- | --- |
| | SPOD | Printful |
| Standard t-shirt | $4.77 | $4.69 |
| Baseball hat | $4.77 | $3.99 |
| Sweatshirt | $5.99 | $8.49 |
| Large poster | $5.99 | $5.99 |
As you can see from the above examples, Printful is cheaper for shipping t-shirts and hats; SPOD is cheaper for shipping sweatshirts; and in the wall art category, pricing is identical in both platforms.
However, it should be pointed out that because SPOD calculates shipping based on order value rather than product category, shipping costs may be considerably higher than the figures quoted above — this will depend on the cost of the base product.
For example, a SPOD 'Bella + Canvas' Unisex sweatshirt with a base price of $30.10 would cost $9.87 to ship to the US, almost $4 more than the average SPOD sweatshirt shipping price in the comparison table above (and, indeed, $1.37 more than shipping the same exact product in Printful).
Now, when it comes to how long it takes to ship goods to your customers, SPOD is definitely the quicker of the two platforms.
This is partly due to its faster production times, but also because SPOD — unlike Printful — offers a 'Premium' and 'Express' shipping option on all products.
However, the fees your customer will pay for faster shipping with SPOD are not cheap. For example, it costs around $21 to express ship a t-shirt to the US. In Europe, SPOD's express shipping is even more expensive — fast shipping typically costs an eye-watering €36 ($38.50).
Nevertheless, SPOD gets a thumbs up for providing store owners with a way to get their wares to customers as quickly as possible.
Selling internationally with SPOD and Printful
When you set up a SPOD account, you are asked to choose whether your orders will be printed in the US or Europe — with your ability to ship outside those regions being heavily dependent on which one you choose.
Significantly, if you choose to have your products printed in the EU, you won't be able to ship to customers in the US.
If you want to use SPOD to sell to customers in both the EU and the US, the only solution is to create a second store with a different domain — but this would mean you have to remake all of your products in both SPOD accounts.
On top of that, you might end up with duplicated products in your ecommerce platform, meaning that you might have to resort to using a GEO IP product blocker so that customers in different regions only see products for their specific region.
All of this essentially makes international selling with SPOD an absolute nightmare!
By contrast, selling and shipping products internationally with Printful is completely straightforward.
When an international customer orders a Printful product from your store, Printful automatically routes the order to be fulfilled at the Printful facility closest to that customer. The order then gets printed, packed and shipped to the customer and that's basically it.
Additionally, the fact that Printful has fulfillment centers in the US, EU, Asia and Australia results in very reasonable and ultimately cheaper international shipping fees for end customers.
So, when it comes to international POD selling, it's a very big win here for Printful.
---
Integrations
Printful offers a much larger range of integrations with ecommerce platforms than SPOD.
Printful provides a total of 22 direct integrations — it can be used with 9 online store builders and 3 online marketplaces.
At time of writing, the full list of services that can be connected to Printful is as follows:
Shopify
Etsy
WooCommerce
Wix
Squarespace
Webflow
Ecwid
BigCommerce
Prestashop
Square
Amazon
TikTok Shop
eBay
Big Cartel
Weebly
Adobe Commerce
Storenvy
Gumroad
Nuvemshop / Tiendanube
ShipStation
Shift4Shop
Launch Cart.
SPOD integrations with ecommerce platforms are much fewer in number. There are just 4 direct integrations available, and these are only for online store builders, not online marketplaces.
SPOD only integrates directly with:
Shopify
WooCommerce
Magento
Squarespace.
There is a workaround however for getting SPOD to talk to online marketplaces. This involves connecting it to an automation tool called 'Order Desk.'
Order Desk adds an additional 50 or so marketplaces to the mix for SPOD sellers including important ones like Etsy, eBay, Best Buy and Amazon.
However, using the Order Desk integration with SPOD is quite expensive. The fees for doing so range from $20 per month (plus $0.25 per-order transaction fees) on the Order Desk 'Starter' plan up to $125 per month (plus $0.05 per-order transaction fees) for the 'Plus' plan.
The video below explains the (fairly complicated!) process for connecting SPOD products to the Etsy marketplace via the Order Desk platform.
But what about user reaction to the available integrations?
To get an idea of this, let's take a look at customer feedback for both tools from WooCommerce and Shopify store owners.
WooCommerce users rate both SPOD and Printful a not brilliant 2.5 out of 5 (it's worth noting that there are not too many reviews of SPOD by WooCommerce users, however).
| | | |
| --- | --- | --- |
| | SPOD | Printful |
| Shopify app store | 4.1 stars (716 reviews) | 4.6 stars (4,301 reviews) |
| WooCommerce / WordPress plugin directory | 2.5 (7 reviews) | 2.5 stars (73 reviews) |
When it comes to Shopify users, Printful comes out on top in the customer satisfaction stakes, receiving an excellent 4.6 out of 5 rating (based on 4,000+ reviews). This compares positively to a still-respectable 4.1 stars for SPOD (based on 700+ reviews).
Overall it's fair to say that Printful has a clear edge when it comes to integrations. It provides far more integrations than SPOD and it includes direct integrations with ecommerce marketplaces out of the box.
Additionally, Shopify merchants — arguably the most significant platform userbase in the POD industry — give Printful a fairly decisive ratings victory over SPOD.
---
SPOD vs Printful pricing
Unlike some competing POD platforms such as Printify, there are no monthly platform fees to worry about when you use SPOD or Printful. Both tools let you set up an account, create products and list them on an ecommerce store entirely for free.
This means that the pricing differences for both tools are to be found in product prices.
So, let's take a quick look at both company's starting prices (in the US) for some popular POD categories.
| | | |
| --- | --- | --- |
| | SPOD | Printful |
| Men's t-shirts | Starting at $8.18 | Starting at $9.25 |
| Unisex sweatshirts | Starting at $21.34 | Starting at $18.50 |
| Hats | Starting at $10.85 | Starting at $12.25 |
| Mugs | Starting at $8.11 | Starting at $7.95 |
| Phone case | Starting at $12.00 | Starting at $10.95 |
| Tote bags | Starting at $7.19 | Starting at $14.50 |
As you can see from the above table, both tools charge similar prices for these products — SPOD is cheaper in some cases (where men's t-shirts, hats and tote bags are concerned) and Printful is cheaper in others (i.e., sweatshirts, mugs and phone cases).
All of the above prices include adding a printed design to one area of each product — if you want to print on additional areas, both platforms charge you roughly $5 per additional area.
But starting prices are only one part of the pricing story; it's worth remembering that the base product in both tools may not be exactly the same or, indeed, of the same quality. In other words, you're not necessarily comparing like with like here.
So let's compare SPOD and Printful prices for items that involve the same base product from the same manufacturer.
Here are three examples taken from both company's product catalogs:
| | | |
| --- | --- | --- |
| | SPOD | Printful |
| Bella + Canvas 3001 T-shirt | $12.66 | $11.50 |
| Bella + Canva Tri-blend 3413 T-shirt | $18.14 | $17.75 |
| Gildan sweatshirt 18999 | $21.34 | $18.50 |
Interestingly, Printful prices work out 2% to 13% cheaper than SPOD for base products from the Gildan and Bella + Canva manufacturers — and I found this to be the case for several other identical items that are offered by both platforms.
Another key benefit of using Printful over SPOD when it comes to pricing is its monthly discount scheme.
Under this scheme, Printful merchants who sell over $1,000 worth of Printful products in a calendar month get 5% to 9% discounts on product prices for the subsequent month (with precise discounts depending on sales volumes — see screenshot below for details).
This means that if you use Printful to generate even a fairly moderate level of monthly sales, there are some pretty substantial savings to be had on Printful's regular catalog prices.
SPOD users don't benefit from any similar discounts, unfortunately.
Overall, I would argue that product pricing in SPOD and Printful is generally reasonable and more or less in line with the costs involved with selling on competing POD platforms such as Gooten, Spring and Printify.
However, because it charges less for the same products than SPOD, and on top of that offers generous monthly discounts to merchants who sell regularly, it's a clear win for Printful in the pricing category.
---
Customer support
SPOD and Printful offer users multiple ways to contact their customer support teams. You can contact Printful via email and live chat; email and phone support is provided by SPOD.
The availability of phone support for SPOD is significant — a lot of ecommerce tools don't provide it.
Printful has an edge however when it comes to the availability of customer support — its live chat service is available 24/7 across all regions.
By contrast, SPOD customer support is only available Monday to Friday at the following times:
United States: 8am – 7pm EST
Europe: 9am – 6pm CET
A key thing worth flagging up about SPOD customer service is that you can only contact the customer support team in the region your SPOD account is registered for. So, if your store is registered in the US, you can't call the European support line for help (and vice versa).
In addition to the in-person support provided, both Printful and SPOD give users access to 'self-serve' help centers. These help portals cover all the basics including creating products, setting up integrations and account management.
It's fair to say though that Printful's help center is the more comprehensive of the two; and it includes a lot of easy-to-follow video guides, while SPOD's help material is largely text-based.
Another edge Printful's help center has over SPOD relates to multilingual support — it's available in 7 languages (English, Spanish, Italian, Japanese, German, French and Portuguese), while SPOD's help materials are only available in English.
Printful users can also avail of some free print-on-demand courses via the 'Printful Academy' pages in the Printful help center. Upon completion of these short courses, users receive points that can be exchanged for various goodies and perks — for example, free Printful products, discount coupons and sample orders.
(These appear in the 'Printful Challenges' section of a Printful account).
---
SPOD vs Printful: conclusion
Overall, Printful is the winner in a SPOD vs Printful comparison. It provides sellers with significantly better functionality than SPOD in several key print-on-demand areas, especially where designing products, applying custom brands and availing of discounted pricing are concerned. Printful also boasts a significantly larger range of integrations with top ecommerce platforms and marketplaces than SPOD, meaning that it is a much easier and more flexible tool to sell POD products with.
In particular, Printful is the much better choice if you plan to sell print-on-demand products to an international audience. Unlike SPOD, Printful doesn't force you to select a geographic region for product production or buyer market: all Printful merchants can sell their products worldwide, and their customers don't face large shipping fees (because Printful automatically routes orders to be printed and fulfilled at facilities in the same region as the end customer).
SPOD does have an edge over Printful in a couple of areas, however. In particular, its faster production and shipping times are worth highlighting as key wins. With most of its products being printed and packed within 48 hours, SPOD can get items to customers more quickly than Printful (in fact, it has one of the fastest turnaround times in the whole POD industry).
Another aspect of SPOD that will appeal to some users is how it charges for shipping. Unlike most POD companies — including Printful — SPOD bases shipping fees on 'order value', which is arguably a less complex approach than Printful's 'per category' approach to shipping fees.
But in general, it's hard not to conclude that Printful is the overall winner in this shootout.
I'll wrap up with a summary of the key pros and cons of both of these print-on-demand platforms — and why you might want to use one over the other.
---
SPOD vs Printful — pros and cons summary
Key reasons to use SPOD over Printful
SPOD's production times are faster than Printful's.
SPOD offers express shipping; Printful doesn't.
It lets you work with more file types in your designs.
It provides more free stock assets in its designer.
SPOD's integration with 'Order Desk' provides users with the possibility of listing products on over 50 different marketplaces (although doing so is quite expensive).
Phone support is available for SPOD; with Printful, only online support is provided.
Key reasons to use Printful over SPOD
Printful lets you sell a wider range of products than SPOD.
Its product designer is considerably more powerful than SPOD's. It provides access to many more fonts — 700+ to Spod's 55 — and more advanced editing features too.
It charges less for several key products than SPOD.
It gives you more ways to brand your products and packaging than SPOD does.
There is a much wider range of free ecommerce integrations available for Printful than for SPOD.
Unlike SPOD, Printful gives you access to monthly discounts when you sell more than $1,000 worth of products.
It's much better for selling internationally than SPOD.
Printful's customer support is available 24/7 (via a live chat channel); SPOD's customer service hours are office-only.
---
Alternatives to SPOD and Printful
There are quite a few alternatives to SPOD and Printful for creating a print-on-demand store. Let's take a look at some of the key ones.
Printify
Printify is one of the strongest contenders to SPOD and Printful, especially where product catalog size is concerned: it gives you access to a huge selection of 800+ customizable products.
Unlike SPOD and Printful, Printify uses a large network of third-party print companies to print orders, and this can sometimes lead to faster shipping for customers and lower costs for merchants.
You can learn more about how Printify stacks up against Printful in our detailed Printful vs Printify comparison.
Apliiq
Apliiq is a print-on-demand company specializing in premium apparel products.
Like Printful, Apliiq offers a wide range of customization options, including branded labels, clothing tags, and embroidered patches. It also offers unique product customization, like the ability to design the interior lining of a hoodie or add pockets, patches and more to your clothing.
Recommended for those looking to start a fashion brand with a focus on design and quality, APliiq offers wholesale discounts, product quality assurance services, and additional benefits like custom woven labels.
You can learn more about Apliiq and its 'private labeled' hoodie options in the video below.
Spring (now Teespring)
Spring is a print-on-demand company aimed firmly at social media content creators. To that end, it provides you with integrations for Instagram, Twitch, Linktree, OnlyFans and Youtube — making it an interesting POD solution for creators on these platforms with a captive audience of potential buyers on their channel. You can learn more about the product creation process in Spring in the video below.
Canva
Another option for starting a POD business is to use the design app Canva. This lets you create and print 43 different types of high quality products.
Unlike other services mentioned earlier, Canva is a general-purpose design tool rather than a dedicated POD solution.
However, it provides a more robust design interface than most POD platforms, which includes a much wide range of editing tools (brushes, photo-editors, AI design features, and more). Consequently, the print products you can create with it can look better than those created with some POD solutions.
Additionally, Canva offers a vast collection of stock images and graphics that can be incorporated easily into your designs.
If you're interested in learning more about Canva, check out our comprehensive Canva review or read our Canva Pro vs Free article.
Alternatively, you can watch our video guide, 'What is Canva?' (below), for a quick overview of the platform.
'What is Canva?' video guide
SPOD vs Printful FAQ
Are Printful and SPOD free to sell on?
There are no monthly fees involved with using Printful or SPOD. However, you will be charged by both companies every time you sell one of their products on your store. It is also important to note that you will normally have to pay selling fees to the ecommerce platform or marketplace you list your SPOD or Printful products on.
Why is Printful better than SPOD?
Printful is better than SPOD because it is more feature-rich. It gives you access to a significantly more sophisticated product design tool, a wider range of branding options for your products and packaging, and the opportunity to enjoy generous monthly discounts once you achieve certain sales volumes on your store.
Furthermore, Printful boasts an impressive total of 22 built-in integrations with various ecommerce platforms and marketplaces, including eBay, Etsy, and Amazon. By contrast, SPOD only works with four integrations and lacks built-in integrations with major ecommerce marketplaces.
Lastly, Printful simplifies international selling, allowing users to sell worldwide with reasonable shipping rates and minimal complications, while SPOD limits you to one store per region and makes selling outside your selected region extremely challenging and expensive.
How do you make money with SPOD and Printful?
Both SPOD and Printful provide opportunities to establish an ecommerce business with minimal risk and very low upfront costs, and they let you sell a diverse selection of customizable products while maintaining complete control over your profit margins. However, to make money using the print-on-demand model, it's essential to develop a strong business concept and build a sizeable customer base. Achieving this typically involves investing in digital marketing strategies such as online advertising, search engine optimization, and blogging.
SPOD vs Printful…over to you
We hope you've enjoyed our SPOD vs Printful review! If you have any thoughts or queries on either platform, do feel free to share them in the comments section below. We'll do our best to answer your questions. And feel free to add your own thoughts too: do you have a preference for either of these print-on-demand platforms? Which one do you think is the better POD company?
More print-on-demand and dropshipping resources from Style Factory