We have a strict honest reviews policy. To fund our research and testing, this post contains affiliate ad links.
Getting a good placement in Google search results may seem tough — but you can make life a LOT easier for yourself and your website by taking some simple, Google-recommended steps to help the search engine giant know you're there. In this post, we spell these all out for you.
---
There are two ways to use this resource. You can watch our 'quick start' video guide to improving site visibility (below) or you can read the whole post, which goes into more depth on each tactic discussed in the video. To gain the best understanding of the topic, we recommend doing both.
Increasing site visibility: a video guide
The starting point for improving your site's search visibility involves the Google Search Console tool.
Let's take a look at that now.
---
1. Register your site with Google Search Console
Google Search Console is a free tool from Google that allows you to submit your website for indexing.
Regardless of the platform you've used to build your site — Squarespace, BigCommerce, Wix or Shopify etc. — adding your website to Google Search Console is a key part of SEO, and usually the fastest way to get your site included in Google's search results.
But you can also use Search Console to:
check who is linking to your site (generally speaking, the more high-quality links pointing to your site, the better it will perform in search results)
find out if Google is having any problems indexing your site (due to technical problems with it)
let Google know if different versions of your websites exist (for different countries, in different languages etc.)
view the search queries that drive the most traffic to your site
ask Google to reindex an updated a piece of content (so that the fresh version can be displayed in search results more quickly).
The Search Console help pages are a great starting point for understanding how the tool can help you maximise visibility for your site in search results.
You may also find the 'Introduction to Google Search Console' video below useful too.
Once you've registered your site with Google Search Console, it's time to consider using a related service to improve its search visibility: Google Business.
Let's look at why you might want to do that.
---
2. Register your site with Google Business
When you start a new business, registering it with Google Business (formerly known as 'Google My Business') should be one of your first priorities.
Creating a Google Business profile for your business can give it an extremely quick SEO win by helping it appear in relevant geographic search results.
In fact, this can happen within just a couple of weeks of setting up your Google Business profile.
When you register your website with Google Business, Google will send a card containing a pin to your business address – you can use this to 'verify' your business.
This verification lets Google know that your business genuinely operates in the location you specified — it is then more likely to be highlighted in search results and in the 'local map pack' on Google Maps when people search for a business like yours.
You can see an example of this in action via the screenshot below.
However, you should note that you can only use Google Business if:
your business has a physical location that customers can visit; or
your staff members visit customers near where your business is located.
In short, Google Business is an extremely important part of local SEO — and if your business relies on attracting customers in your own area, registering it with this service is absolutely essential.
Remember: always keep your Google Business profile up to date!
Once you've registered on Google Business, it's vert important to keep your profile up to date.
This is because customers often see a link to your Google Business profile before they encounter a standard search result for your site – usually in a hard-to-avoid box either above the main results (on a mobile), or to the right of them (on desktop devices).
So, if your Google My Business entry contains incorrect information — like the wrong opening hours or an old telephone number — this is going to work against you (and quite possibly frustrate your customers too).
Once you've set up your Google Business profile, try to encourage satisfied customers to review your business on Google.
This is because having a healthy quantity of stars beside your business name can increase clickthrough rate — something that many SEO experts believe can have a positive effect on search results.
Now, at this point, you've told Google that your site exists. But it's now time to tell the search giant what it's about. This involves using the right keywords in your content.
So let's discuss how to do that.
---
3. Identify the right keywords to use — and add them to your headings, page titles, meta descriptions and URLs
It's really important to identify the best keywords — phrases that you want to rank for in search results — for your site, and to make sure that they're added to it in the right way.
Identifying target keywords
To find out what the best 'target keywords' are for your website, you need to perform keyword research.
This involves finding out three key pieces of information:
the keywords that people are using to search for products or services like yours
the volume of searches for each of them
how difficult it will be to rank for each keyword (this is based on how many existing authoritative sites or pages already perform well in search results for those keywords).
When you have these three pieces of information, you can usually identify the phrases to optimize your content for.
This is because you have enough data to find an SEO 'sweet spot' — keywords that are popular enough to generate a reasonably large amount of traffic, without being so popular that there are already lots of other websites dominating search results for them.
Simple keyword research tutorial
To get this data, you'll need to use a dedicated keyword research tool like Semrush or Ahrefs; these let you enter in keywords and provide you with all the above stats for each one.
Keyword research resources from Style Factory
For help with finding the right keyword research tool, check out our:
Adding target keywords to your site
Once you've identified the most appropriate keywords for your content — 'target keywords' — you need to make sure that they're added to the right places in your website.
You should add your target keywords to:
Page titles — the text displayed in search results as the clickable headline for a given result
Meta descriptions — a page description that is presented in search results as the main summary of the content
Headings — the 'signpost' headers (H1, H2, H3 etc.) that guide readers through an article
Page content — the main text content on your page
Your URLs — the address of the page, i.e., www.yoursite.com/page-name
Google uses all these elements in various ways to index your content and decide whether it is relevant to searches for your preferred keywords.
One caveat on meta descriptions: Google is on record as saying that meta descriptions aren't a ranking factor.
However, many SEO professionals believe that Google does monitor the clickthrough rates that meta descriptions generate in search results, with higher clickthrough rates — 'CTRs' — indicating that a page is likely to answer a particular search query well.
Pages with high CTRs are often rewarded with higher placements in search results — so meta descriptions can end up influencing proceedings after all.
Avoid being spammy, however, by stuffing all the above with too many keywords, because this can:
damage your chances of appearing high in search results (Google's algorithms are extremely good at spotting spam)

make your site appear appear offputting or 'cheap looking' to users who come across it during searches.
No matter what keywords you end up targeting, you should always create content around them that is genuinely useful to users (this especially important in the light of the Google algorithm's recent 'helpful content updates').
When it comes to URLs, using 'clean' URLs with a simple structure is encouraged by Google.
Clean URLs are short, simple and intelligible — for example, if you were selling blue cars, it would be advisable to use a URL of
www.yourdomain.com/blue-cars
rather than
www.yourdomain.com/prd/p223/ref1456_zblue_crs
You'll find more information from Google on creating simple URLs here, but the key things to remember are:
Use short, intelligible URLs that contain your focus keywords.

Break up your URLs with punctuation when needed to make keywords more obvious to both Google and users (i.e., www.yoursite.com/green-shoes is better than www.yoursite.com/greenshoes).

Use hyphens rather than underscores to denote spaces (i.e., www.yoursite.com/green-shoes is preferred to www.yoursite.com/green_shoes).
Clean URLs make it easier for users to spot relevant pages in search results, but are helpful in another way too: if somebody creates a link to your site from theirs but only copies the URL, the keywords in the URL become the anchor text (the clickable text). Because Google looks at what words are in anchor text when categorizing and indexing content, relevant ones can help you to rank better.
---
4. Make your site load as fast as it can, particularly on mobile devices
Google has been using site speed as a ranking signal since 2010 — so it's really important to ensure that your site is loading as quickly as possible.
This means that you should:
minimise the number of 'HTTPS requests' on your site — keep use of external scripts to a minimum
ensure your image file sizes are small — use image compression tools like Tiny Png to help you compress them with minimal loss of picture quality, or use fast-loading image formats like WebP.
use fast web hosting.
Getting page speed insights
You can use Google's Page Speed Insights tool (screenshot below) to get a comprehensive list of things you can do to improve the loading times of your content.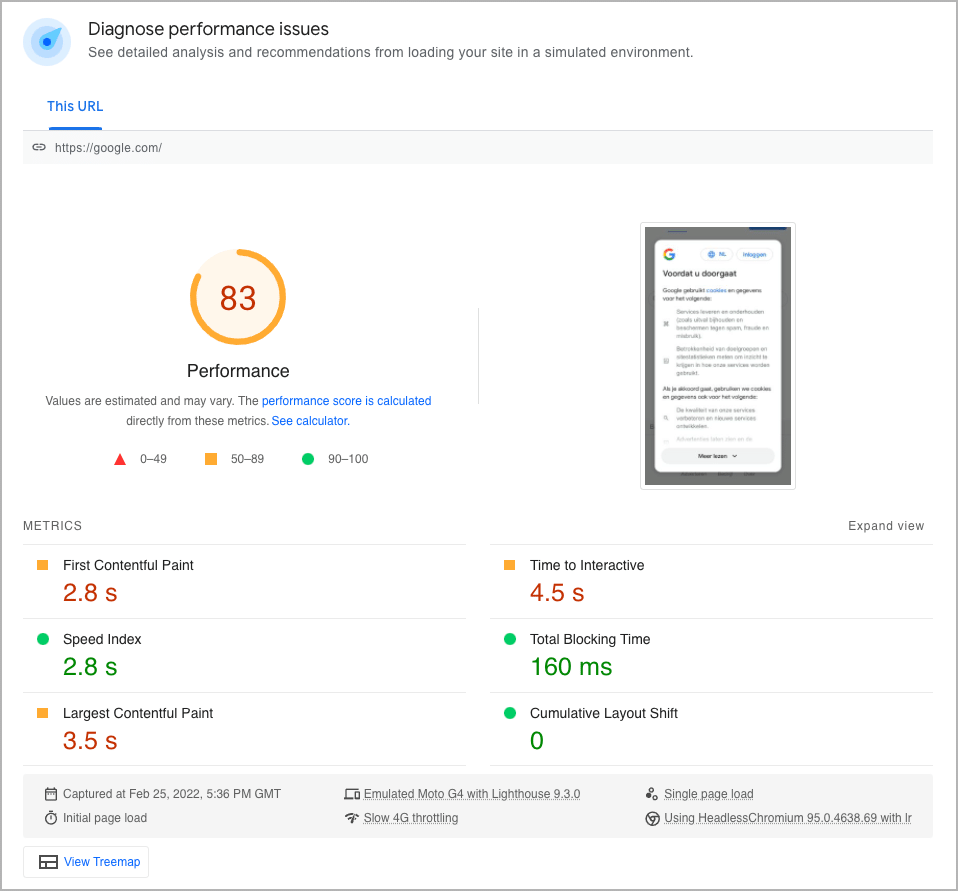 Pingdom's Website Speed Test site is also a good resource for identifying aspects of your website that are slowing it down, as is GT Metrix.
The importance of page speed for mobile devices
It's particularly important to ensure that your website loads fast on a mobile device, and that the user experience for people viewing it on smartphones is as good as possible.
In fact, studies show that 29% of smartphone users will immediately switch to another site if they are not satisfied with how your site performs.
Accordingly, Google places a strong emphasis on rewarding sites that load quickly on mobile devices with higher positions in search results.
Another thing worth bearing in mind is that Google prefers mobile sites that are clutter free — i.e., ones that don't feature obtrusive popups or 'interstitials.'
Not only can these slow down the loading of your website on a mobile device, they can make for a poor mobile user experience — something that Google's algorithm typically penalizes.
You can view Google's mobile SEO overview guide here — this outlines how you can maximise your mobile site's visibility in search results.
---
---
5. Create backlinks to your site
Even if you've got fantastically well-constructed page titles, meta descriptions and URLs, they usually won't radically improve your site's ranking unless you've got 'backlinks' pointing to it too.
Backlinks are links from other sites to your site, and in a very simple sense Google counts them as 'votes' for your content.
There are two main ways to generate backlinks:
via outreach, by asking other site / blog owners to feature links to your content on their sites
by creating high-quality, keyword-rich blog posts that are extremely relevant to your business niche — if they are REALLY helpful or interesting articles, they are more likely to attract a relevant audience, a proportion of which will create backlinks to them (see the video below for some key tips on how to blog in a way that drives organic traffic).
Avoid using companies that promise to create thousands of low-quality backlinks for you however — Google may penalize your site if it thinks there is spammy activity going on in this regard.
(Excessive link swapping or 'link schemes' can lead to penalties too).
Finally, remember that links from higher-quality websites count more than those from lower-quality ones — i.e., if you get a link from The New York Times to your website, it will have more impact on your site's ranking than one from an unknown blog.
How to create blog posts that drive traffic
---
6. Follow Google's advice
Google is actually very helpful when it comes to advising you how to improve your site's performance in search results – in fact, the company provides a free guide to optimising your site for Google search.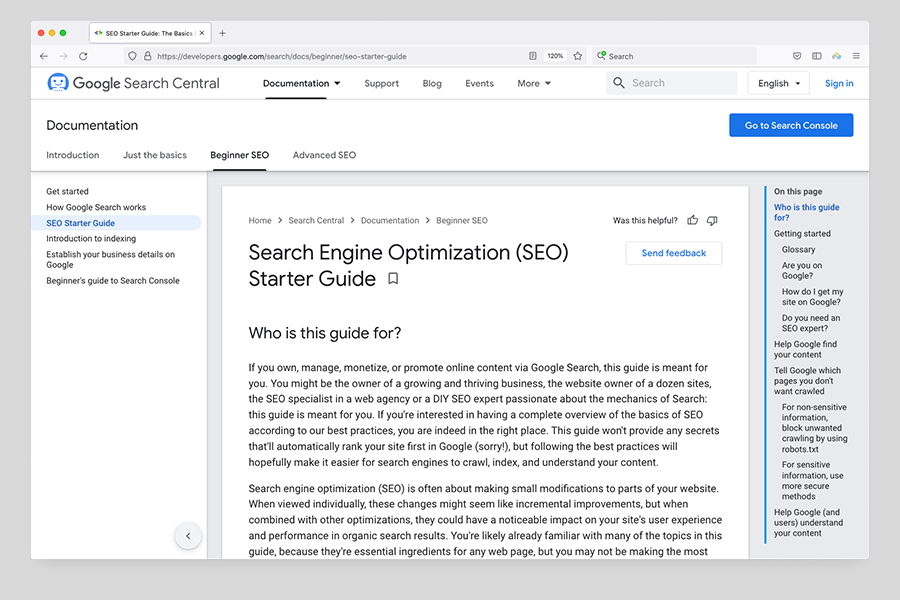 The guide deals with the nuts and bolts of SEO – how to use headers, meta data and keyword-rich content appropriately. Read it in depth and make sure you are following all its advice!
I's also worth reading is Google's 'Search Essentials' resource — this spells out Google's technical requirements for a site to rank, its spam policies and best practice for ensuring high rankings.
The Google Search Central YouTube channel also contains useful video content for anyone hoping to improve their presence in search results; and to ensure you don't miss out on Google's latest advice on SEO, it's advisable to sign up to Google's Search Liaison Twitter feed.
---
More ways to boost your position in search results
I hope the above tips have helped you understand how to make your site more visible in Google search results!
However, there are a lot more steps you can take to improve your search ranking — if you're interested in finding out more about these, and want to make more substantial improvements to your site's performance in Google, then do sign up below to get access to our free SEO toolkit.
Don't miss out on our free SEO toolkit
For a limited time only we're offering our readers some excellent free SEO tools and resources. Sign up now to immediately receive:
our downloadable cheatsheet containing the 20 key steps to ranking highly in search results
extended free trials and discounts for leading SEO tools
our downloadable cheatsheet on how to grow organic traffic to a blog
2 in-depth guides to SEO
ongoing free tips and advice on SEO and growing your business
---
Checklist for increasing the visibility of your website in Google
Register your site with Google Search Console.
Register your site with Google Business.
Perform keyword research and add the right keywords to the right parts of your site.
Make your site load as fast as it can, particularly on mobile devices.
Create high-quality content.
Source backlinks for your website.
Make use of Google's free tools and resources.
How to improve the visibility of your site in search results — FAQ
How do I get Google to index my website?
The simplest (and fastest) way to get Google to index your website is to submit it to Google Search Console. You can also ask other website owners to link to your website; when Google encounters these links, it may add it to its index.
How do I get my website on Google Maps?
To get your website on Google Maps, register its location on Google My Business. Note however that in order to appear on Google Maps, your business must be one that offers services to customers in the actual location you're registering (virtual office addresses or premises that customers can't visit cannot be registered).
Does it cost anything to get my site listed on Google?
Getting included in Google's organic search results is free (although getting on the first page of results can be difficult). If you want your site to appear above the organic results, you can pay Google to display an advert for it, using the Google Ads pay-per-click (PPC) service.
How do I get my website on the first page of Google search results?
Ranking on the first page of Google for a particular phrase typically involves carrying a three-step process: first, performing keyword research to ensure that you have a realistic chance of doing so; second, writing quality content about the topic or phrase you're trying to rank for; and finally building links from other sites to that piece of content.
Any questions on improving the visibility of your website? Leave a comment below!
Now, over to you! Got any queries about making your site more visible to search engines? Just share them in the comments section below. We read all questions and always do our best to help.