We have a strict honest reviews policy. To fund our research and testing, this post contains affiliate ad links.
In this in-depth look at Canva pricing, we take you through all the Canva plans available and help you work out which is the best one for you. Can you make do with Canva's free plan, or should you invest in the paid version?
Let's find out. But first…
---
What exactly is Canva?
Canva is a design tool that lets you create professional visual assets without needing graphic design skills. The app comes with a wide range of bundled templates, graphics, images and videos, and these can all be used to create a large range of marketing materials — social media graphics, videos, presentations, slides, posters, charts, graphs and even printed items.
In recent years the app has become very popular amongst small businesses and solopreneurs: it now boasts 135 million monthly active users,15 billion designs have been created with it and there are now 4,000 people working for the company.
(Our Canva video review, below, highlights what you can do with the app, and explains some of the key pros and cons of the tool).
But if you've been investigating Canva as a solution for creating and managing visual assets for your business, you'll know that there are a few different pricing plans to choose from — and you may be wondering which set of fees is likely to work out best for you.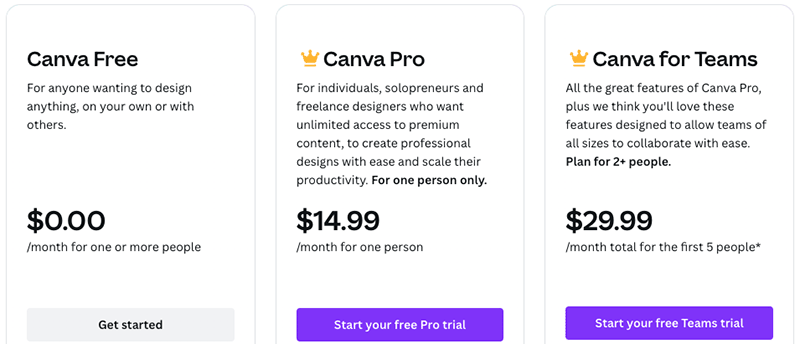 So, in this post, I'm going to break these down for you and show you the pros and cons of each.
Let's start with the free plan.
---
Canva Free — $0 per month
As the name suggests, this plan is entirely free. And, given this, it's surprisingly good: it's perfectly possible to use a free Canva account to create designs that are professional in appearance and look great both online and printed.
Key features of the free Canva plan
The free plan gives you access to the following key features:
250,000 free, customizable templates
Over 100 design layouts (social media posts, presentations, letters etc.)
Over 1 million free photos and graphics
The ability to add members to your team and collaborate with them in real-time
5GB cloud storage to save your work with
The option to save your work in an unlimited number of folders
The option to export your work into various file formats.
Using these features you can do some pretty decent design work – if you're starting a new business and have no budget to invest in design, the Canva free plan can empower you to create some very professional-looking visual assets without an investment.
You can learn more about all the features included in the free plan here.
However, as your business operations expand, you may find yourself outgrowing the capabilities of 'Canva Free', and exploring one of its premium plans.
Let's take a look at those, starting with 'Canva Pro.'
Canva Free vs Pro video comparison
---
Canva Pro — $14.99 per month or $119.99 per year
'Canva Pro' can be paid for in two ways: either on a monthly basis or an annual one.
Paying monthly involves a $14.99 per month fee; doing so annually costs $119.99 per year (saving you around $60 in total over a 12-month period).
Try every feature of Canva Pro for free – for 30 days
Canva are currently making a 30-day free trial of Canva Pro available to Style Factory readers. This gives you full access to all the Canva Pro features and assets for several weeks, and lets you export all your designs too. You can access this 30-day trial by clicking here — but please note that this offer will be available for a limited period only.
(You can learn more about the Canva free trial features here).
But what do you get for this extra fee that's not available from the Canva free plan?
Below you'll find a list of the key features that I think it's worth upgrading to the 'Canva Pro' plan for (in order of significance).
Premium stock photos, videos and graphics
While you can get by on the free version of Canva, and create some very decent-looking visuals, you are limited to a more basic library of stock images and graphics.
With 'Canva Pro,' you get an enormous range of additional stock photos and graphics (100 million +, apparently!); but you also get access to an audio and video library too. This gives you access to 25,000 audio tracks and almost 10 million video clips (in 4k and HD format).
This opens up the creative possibilities significantly, and when you consider how much some stock photo sites charge for just one image, it represents really good value for money.
Even if you only ever used Canva to source stock photos and videos, and didn't bother with any of its design tools, you'd be getting an awful lot of bang for your buck.
More templates
Although the 'Canva Free' plan is pretty generous when it comes to templates, giving you access to 250,000+, you get a lot more of them on the 'Canva Pro' one: 610,000+.
Brand kits
A key feature of the 'Canva Pro' plan is its 'brand kits' tool. This lets you upload a logo and your own fonts, and define a palette containing your brand colors.
This helps to ensure that anything you produce in Canva remains firmly in keeping with your brand's visual identity.
On the 'Canva Pro' plan, you can create multiple brand kits — up to 100.
The Magic Resize tool
Another particularly useful feature of 'Canva Pro' is its 'Magic Resize' tool — this lets you repurpose existing designs for different platforms really easily.
You can open an existing design, and then use the Magic Resize tool to automatically reformat it to suit different social media channels.
In other words you can usually turn a blog post banner into a Facebook post image or a YouTube video thumbnail just by clicking a button — and output everything in one go.
Take a look at the video below to get a sense of how this works in practice.
More access to the Magic Write tool
Another feature that the 'Canva Pro' plan gives you full access to is Canva's 'Magic Write' tool. This is an AI-powered text generator that automatically creates textual content for your designs and documents — you give it a prompt for the type of content you want and let it come up with the copy for you.
It's essentially a more basic version of the much-publicized Chat-GPT AI chatbot — in fact, Canva's Magic Write is built on top of a Chat-GPT framework.
Magic Write can be used to generate text across the full range of Canva document types including presentations, videos, documents, posters and social media designs.
While free plan users do get some access to this feature, this is limited to 25 prompts in total. By contrast, 'Canva Pro' subscribers get a more generous 250 prompts per month.
(In addition to full access to the Magic Write tool, 'Canva Pro' users also get more complete access to Canva's growing arsenal of AI-based design features, including its AI 'text to image' generator and built-in translation tool.)
Background remover
On the 'Canva Pro' plan, you get access to a background removal tool. This makes it very easy to take a headshot with a background and put whatever you like behind it.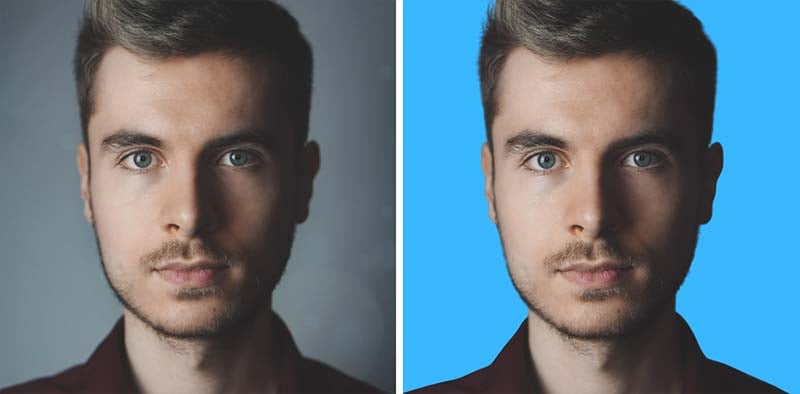 If you're a YouTube creator, you'll find this particularly handy for creating brash video thumbnails of yourself looking shocked at the content of your own videos…
Transparent background downloads
A related feature that's available on 'Canva Pro' but not on the free version is the option to download your designs with a transparent background.
This is particularly useful if you're designing logos that you want to superimpose on different assets — the transparent background means that your design can be applied neatly and easily over something else.
Custom template design
While the free version of Canva only lets you work with pre-designed Canva templates, in 'Canva Pro' you can create your own custom templates.
This means that you can create on-brand, standardized templates for your team to use.
Storage and folders
With the free version of Canva, you get 5GB of storage; this will be eaten up quickly by any large multimedia files that you add to the platform.
'Canva Pro' gives you 200 times that amount — a 1TB storage limit applies. This limit should be fine for most — the only users who might not be entirely satisfied with it are those who edit a very large amount of video using Canva.
Customer support
On the free Canva plan, support is provided via the Canva help center, or via email.
The turnaround time for email support queries on the free plan is lengthy however — you may finding yourself waiting up to 7 days for a reply to your help ticket.
On 'Canva Pro,' email support is quicker: you can expect a reply within 24 hours.
If you're interested in using the 'Pro' version of Canva, for a limited time you can avail of a 30-day free trial here.
---
Canva for Teams — variable pricing
The 'Canva Pro' plan will meet the needs of 'solopreneurs' perfectly well. However, bigger companies will have additional requirements — specifically around the number of users that can access a Canva account and tighter control of branding.
This is where 'Canva for Teams' — the more 'enterprise' version of Canva — comes in.
Unlike 'Canva Free' or 'Canva Pro,' the pricing for 'Canva for Teams' operates using a variable structure, based on the number of 'seats' in your account.
The more users you have, the more you pay, basically.
The below table shows what you'd expect to pay if you had 5, 10, 20, 50 or 100 users in your team:
| Seats | Monthly fee | Annual fee |
| --- | --- | --- |
| 5 | $29.99 | $300 |
| 10 | $104.94 | $1,050 |
| 20 | $249.94 | $2,500 |
| 50 | $674.69 | $6,750 |
| 100 | $1,357.69 | $13,600 |
However, this doesn't tell the whole story, because when purchasing a 'Canva for Teams' plan, you also have the option to purchase a 'custom' number of accounts, with bespoke pricing offered based on the number of 'seats' purchased.
But, other than additional users, what do you actually get with a 'Canva for Teams' plan that isn't available on the free or 'Pro' versions?
Let's take a look at that.
Workflow management
If you want to run 'managed' approvals process on designs, you can use the 'Canva for Teams' plan's workflow management features to do this.
These collaboration tools give you more control over your team's access to Canva; significantly, they let you assign 'approvers' to projects, who can access, review, provide feedback on and approve designs created by your team members.
Template locking
The 'Canva for Teams' plan lets you lock down your templates more tightly — meaning that you can retain more control over the appearance of your assets and avoid 'drift' away from your standard brand guidelines.
(This feature is particularly useful if your team doesn't include any graphic designers to oversee how the app is used).
More brand features
While 'Canva Pro' limits you to creating 100 brand kits (containing your logo, typefaces and color palettes), 'Canva for Teams' lets you work with up to 300.
In addition to extra brand kits, the 'Brand' section gives you two other features that are only available on the 'Canva for Teams' plan:
a 'brand templates' section, which allows you to create and store reusable branded templates
a 'brand controls' section, which lets you restrict your team members' use of colors or fonts that don't belong to your brand guidelines.
These enhanced brand features make the 'Canva for Teams' plan more suitable for agencies working with a large number of clients.
Storage
While the 'Free' and 'Pro' plans limit you to 5GB and 1TB of storage space respectively, the 'Canva for Teams' plan gives you 1TB for every member of your team, making it a more suitable and scalable option for companies that work with a large number of big multimedia files (video, audio etc.).
Single sign-on (SSO) integration
Single sign-on (SSO) lets a user to use one set of login credentials to access multiple applications, making username and password management easier.
On a 'Canva for Teams' plan, you can include Canva in the apps you use SSO for.
Quicker customer support
A significant difference between 'Canva for Teams' and 'Canva Pro' involves the turnaround time in support. Whereas on the 'Canva for Teams' plan you generally get 'priority' support that generally results in queries being answered within 2 hours, on 'Canva Pro,' you may be waiting up to 24 hours for a response.
---
Canva for educational and not-for-profit organizations — what are the costs?
In addition to the plans that are aimed at businesses, Canva provides several plans that are designed for the education and charity sectors.
'Canva for Education' is free for 'K-12' teachers and students — with 'K-12' referring to US education levels that stretch from Kindergarten to 12th grade.
(For the record, Canva contains over 81,200 templates that are specifically designed for educational purposes.)
As its name suggests, 'Canva for Nonprofits' is a version of the platform that's free for those working in the charity sector (and can be used by up to 50 people depending on the type of organization).
An application process is involved before you can use Canva for Nonprofits, during which Canva's team will verify your eligibility for the plan.
Recently, Canva also launched a plan for universities and higher education institutions called 'Canva for Campus.'
Unlike the 'Canva for Education' and 'Canva for Nonprofits' plans mentioned above however, 'Canva for Campus' is not entirely free to use, however — institutions need to pay for staff team accounts, which can then be used to give students free access to Canva.
Pricing for 'Canva for Campus' staff subscriptions is the same as the pricing for 'Canva for Teams.'
---
So which version of the Canva app is right for me?
Hopefully this Canva pricing guide has helped you identify the key differences between the various plans on offer and helped you understand whether or not a free or a paid-for plan is best for you.
But to sum up, here's my take on which plan is best suited for different types of user.
If you don't have any budget to play with at all, or you're curious about what Canva can do, try 'Canva Free.'
If you work alone and want to access most of the Canva features, or need a cheap source of royalty free images and videos, try 'Canva Pro.' For a limited time, you can get a 30-day free trial of this here.
If you need to provide your team members with access to Canva, and need advanced workflow management, tighter controls over branding and quicker support, try 'Canva for Teams.'
---
Alternatives to Canva
When it comes to browser-based apps, key alternatives include Visme, Adobe Creative Cloud Express (formerly Adobe Spark) and VistaCreate (formerly Crello). These are similarly affordable graphic design tools that let non-professional designers create visual material (note: we have a Visme vs Canva comparison here, a VistaCreate vs Canva shootout here and an Adobe Express vs Canva comparison here).
Adobe Express vs Canva — video comparison
Desktop applications like Adobe Photoshop, Illustrator and Premiere (and other graphic design software you get in an Adobe Creative Cloud subscription) can also serve as alternatives to Canva. But they're a bit different in nature — whereas Canva offers you a built-in library of royalty free photos, graphics and videos, you usually have to source assets 'outside' of the Adobe apps.
Canva vs Photoshop — video comparison
(You can learn more about the differences between Adobe Photoshop and Canva in our in-depth comparison of the two products.)
---
Understanding the pros and cons of Canva
Although we generally love Canva and view it as a really user friendly solution for creating graphics, it's not going to be right for everyone: there are quite a lot of pros and cons to consider when deciding whether or not to use it.
So, to get a really in-depth appraisal of all the features Canva provides, do check out our detailed Canva review. You might also find our What is Canva? article and our Canva Pro vs Free comparison guide helpful.
Canva pricing — FAQ
Can I use Canva for free?
Yes. A cut-down version of the tool is available that can be used indefinitely, and free plans are available to students and not-for-profit organisations (subject to certain criteria being met). A 30-day free trial of the 'Pro' version is also available.
Is paying for Canva worth it?
Although you can do a lot with the free version of Canva, the design tools you get on a paid-for plan let you create much more sophisticated visuals. The strongest arguments for upgrading to a premium plan are probably the amount of free stock images, videos and audio files you get; the export options; the brand kit features; and the background removal tools.
How much does Canva cost each month?
It depends on whether you are using 'Canva Pro' or 'Canva for Teams'. Canva Pro costs $14.99 per month, and the pricing for Canva for Teams depends on the number of users you need to have access to the platform (it starts at $29.99 for 5 users, however).
Canva pricing — over to you!
Now, over to you! Got any questions about Canva? Just leave them in the comments section below — we read them all and will do our best to help.