We follow a strict honesty policy. However, to fund our work, we use affiliate advertising links on this blog.
In this Volusion vs Shopify comparison review, I'm going to put two well-known online store builders head to head.
Read on for a discussion on their pricing, ease-of-use, pros and cons and key features — by the end of this post, you'll have a much clearer idea about which of these ecommerce platforms is best for your business.
Let's start with an overview of Shopify and Volusion. What are they exactly?
---
About Volusion and Shopify
Volusion and Shopify are website building tools that allow you to create an online store.
They work in a similar way, in that they are 'hosted' solutions — they run in a web browser and there is no software for you to install on your own computer.
This means that you can build and manage your store from anywhere, and on any suitable device — so long as you have an internet connection.
Both are 'software as a service' (SaaS) products — you pay a monthly fee to use them, and this gives you the tools to create and maintain your store, namely:
templates
a content management system (CMS)
hosting
credit card processing
support.
The basic idea behind both tools is that even if you don't have coding or design skills, you can create an online store easily using them.
Let's find out how the two products live up to this goal — and how they compare. First up: a look at pricing.
---
Pricing
Shopify pricing
Shopify offers 5 pricing plans:
Lite: $9 per month

Basic Shopify: $29 per month

Shopify: $79 per month

Advanced Shopify: $299 per month

Shopify Plus: pricing varies depending on requirements (but is usually priced at around $2000 per month).
A free trial of Shopify is also available, which you can access via this link.
Volusion pricing
With Volusion, there are 4 plans to choose from:
Volusion Personal: $29 per month

Volusion Professional: $79 per month

Volusion Business: $299 per month

Volusion Prime: custom pricing, based on requirements

and turnover
Like Shopify, you can try Volusion free for 14 days.
Entry level plans
Shopify can get you selling online cheaper than Volusion via its $9 'Lite' plan — this is $20 cheaper than the $29 Volusion 'Personal' plan.
However, this Shopify plan doesn't allow you to actually set up a fully functional online store but rather allows you to:
sell on Facebook

sell on existing websites using a Shopify 'Buy Button' (this works in a similar way to a Paypal button

, but with more sophisticated options regarding inventory syncing available)

make use of the Shopify point of sale kit (more on that shortly).
Volusion's entry-level plan — 'Personal' — by contrast allows you to create a fully-fledged online store for $29 per month.
However, there are key limits to be aware of with this plan, regarding:
the revenue you can generate — it's capped at $50k per year

the number of products you can sell — this is capped at 100 items.
By contrast, no sales or product limits apply on any of the Shopify plans (the Shopify Lite plan does however restrict support to email or live chat only).
Transaction fees
In addition to charging you a monthly fee to use their software, some online store solutions take a cut of each of your transactions.
One key advantage of using Volusion over Shopify is the complete lack of transaction fees on any of its plans.
With Shopify, you can only transaction fees on all its plans if you are happy to use Shopify's own payment processing option, Shopify Payments.
Doing so is a good idea as not only does it let you avoid these fees, but also provides you with access to multicurrency selling (more on this later).
However, the catch is that Shopify Payments is only available to users selling from certain countries, namely:
Australia

Austria

Belgium

Canada

Denmark

Germany

Hong Kong

SAR China

Ireland

Italy

Japan

The Netherlands

New Zealand

Singapore

Spain

Sweden

United Kingdom

United States of America (not available to US territories except Puerto Rico).
Shopify users based in countries not included on the above list can make use of a wide range of third-party payment processors; but if you use one, transaction fees will apply (2% on 'Lite' and 'Basic' plans, 1% on 'Shopify' and 0.5% on 'Advanced').
Key things to watch out for when comparing Volusion and Shopify pricing plans
The key things to look out watch out for when comparing Shopify's pricing to Volusion's are the following:
Sales limits: Volusion applies $50k, $100k and $500k sale limits on the Personal, Professional and Business plans respectively. By contrast, no sales limits are applied on Shopify plans.

Abandoned cart functionality: you can access this important feature on the $29+ Shopify plans — but it's only available on the $79+ Volusion plans.

Point-of-sale features: Shopify includes point-of-sale functionality on all its plans, but Volusion doesn't offer any at all.
---
Core features
Shopify and Volusion offer a similar set of key features out of the box, and allow you to:
design your store using a range of pre-existing templates

create catalogues of products

manage your store using a CMS (content management system)

optimise your products for search

accept online payments via a range of payment gateways
Let's zoom in on a few key features, and see how they compare against each other.
---
Templates
Both Shopify and Volusion offer a wide range of templates, all professional in look and feel. They are responsive too, meaning that they will automatically resize themselves to suit the device your store is being viewed on (desktop, mobile, tablet etc.)
In terms of quality, both the Volusion and Shopify themes are of a high quality and I wouldn't have any particular reservations about using any of the themes I've encountered from both companies as a starting point when designing an online store.
What about quantity though?
Free templates from Shopify and Volusion
Volusion offers more choice in the free template department — there are 28 free templates to Shopify's 9.
However, most of the free Shopify templates come in 2 or 3 variations, so there's a reasonable number of free options available from Shopify too.
Paid-for templates from Shopify and Volusion
With the launch of the latest version of Volusion, there are only 2 paid-for themes available: 'Balance' and 'Glass.'
By contrast Shopify's theme store contains 72 paid-for themes, most of which come in a few variants.
Finding the right template
The Shopify theme store is set up in a way which makes it easier to find the right template for your online store: you can browse using a wide range of filters, including price, style, industry and more; by contrast, Volusion doesn't provide any filters at all.
Overall, when it comes to templates, it's hard not to conclude that Shopify's offering is significantly better than the Volusion equivalent.
You can browse the Shopify theme store here, or Volusion's here.
---
Types of products you can sell
Something that's really important to consider in the Volusion vs Shopify debate is the types of products you can sell.
With Shopify, you can sell whatever you like — physical products, digital products, subscriptions or services (in the case of some of these you'll need to add an app to proceedings — but this isn't particularly complicated).
With Volusion, you're pretty much restricted to selling physical goods — remarkably, you can't sell downloadable products. This means that for content or software creators, Shopify will immediately become the better choice.
---
Payment gateways
Both Shopify and Volusion integrate with various 'payment gateways' — third party tools that process credit cards on your behalf.
However, you can use considerably more payment gateways with Shopify — over 100 to just 2 with Volusion (Stripe or Paypal).
Both tools come with an 'out of the box' payments solution too: 'Shopify Payments' and 'Volusion Payments'.
Shopify Payments, as mentioned above, can be used by merchants based in 17 countries. Volusion Payments is only available to merchants in one country however — the US.
All this means that when it comes to the payment gateway department, the hands-down winner here is Shopify.
Download our free ecommerce e-kit
For a limited time, we're offering our readers some excellent free tools. Sign up free to immediately receive:
our online store comparison chart
a downloadable cheatsheet on how to create an online store
our SEO, blogging and 'how to start a business' cheatsheets
extended free trials and discount codes for essential business apps
our latest tips on ecommerce and growing a business
---
Apps
Apps allow you to bolt on a lot of additional functionality to an online store, and integrate third party web applications with it.
Both Volusion and Shopify have app stores, but Shopify users can benefit from a much wider range of apps than Volusion ones: there are 4000+ Shopify apps available that you can integrate with your store, but only around 20 apps for Volusion.
Although Volusion's apps do cover some of the basics (like Mailchimp and Xero), the reality is that Shopify users will benefit from a significantly larger number of options when it comes to apps.
There is one app that is oddly missing from Shopify however — an official integration with Mailchimp. This is down to a disagreement about data protection / privacy issues.
Now, let's take a look at apps and integrations.
Key alternatives to Volusion and Shopify — Squarespace and BigCommerce
Volusion and Shopify are two of the best-known e-commerce solutions, but there are alternatives available.
One such product is Squarespace, which comes with more bundled templates than Shopify and Volusion, excellent blogging and gallery features and the ability to host a pay-to-access members' area.
Shopify has the edge over Squarespace when it comes to general e-commerce features, but Squarespace is the more flexible tool when it comes creating content and laying it out. You can learn more about Squarespace here.
Another tool worth checking out is BigCommerce — which is a much more powerful tool than Volusion, and offers quite a lot of built-in features that you can't avail of in Shopify without resorting to an app.
You can learn more about BigCommerce here.
---
Dropshipping in Volusion vs Shopify
Many potential users of Volusion and Shopify will want to know how well it handles dropshipping.
Dropshipping is a way of selling products where you don't keep the actual products in stock. Instead, you take an order, redirect it to a supplier, and they deliver the goods to your customer.
A lot of people are attracted to this way of selling products because you don't need much capital to start up your business; the down side is that competition in the dropshipping marketplace is fierce, and sourcing products that are made ethically by reliable suppliers can be a challenge.
If dropshipping is what you want to do then — as with much else discussed in this review — you'll find that the options are considerably more extensive in Shopify.
There are tons of apps available for Shopify to facilitate highly automated dropshipping, but with Volusion, the dropshipping functionality seems limited to sending order notifications to dropshipping suppliers.
The Shopify dropshipping starter kit
If you're interested in dropshipping, I'd recommend that you take a look at Shopify's dropshipping starter kit — with this, you get 14 days of free access to Shopify plus lots of bundled resources and tools that show you how to launch a successful dropshipping Shopify store.
---
Point of Sale options
Shopify facilitates Point of Sale (POS) transactions — in other words, you can do business in the real world (selling goods in a retail outlet, pop-up store or event) use these platforms to both accept payment and sync inventory.
You can buy POS hardware directly from Shopify to faciliate point of sale transactions — this includes a barcode scanner, a receipt printer, a till and a label printer.
All these allow your Shopify store to become more than just an 'virtual' entity; it can double up as a tool for running a business in the 'real' world too. All your customer and order data is synced with Shopify, so everything to do with sales and inventory is kept neat and tidy.
You can use POS on any Shopify plan (using an app and a card reader provided by Shopify), but it's worth noting that if you want to access the full range of POS functionality you will need to purchase a 'POS Pro' add-on, which costs a not insignificant $89 per month.
Doing so lets you
work with an unlimited number of retail staff
facilitate 'buy online, collect in store' services
facilitate product exchanges
provide custom printed receipts
define staff roles and permissions
attribute sales to particular staff members (i.e., for commission / performance-analysis purposes).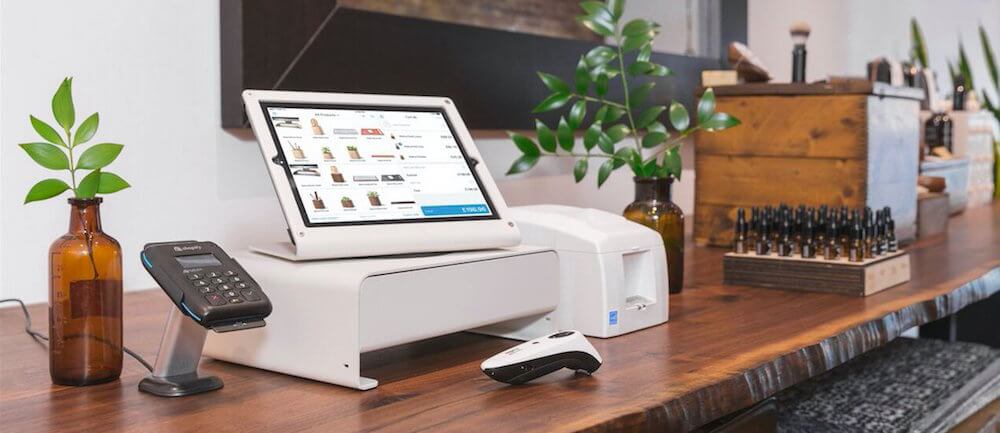 POS functionality is not yet available in the latest version of Volusion — although the company's support team have indicated to me that it's on the way.
For now though, in the POS department, the clear winner is Shopify.
---
Multi-currency selling
You tend to get more sales from an online store if you sell in the currency used by your site visitors.
So, if you're selling in multiple countries, it's good to be able to let your potential customers choose their own currency (or, better still, to present your products in your site visitors' currency automatically).
As things stand, Volusion doesn't let you do any multi-currency selling at all — Shopify does, however.
The built-in Shopify multi-currency functionality doesn't do auto-conversion however — site visitors have to manually select their currency from a drop-down menu — so some merchants will prefer to make use of a third-party app to handle currency conversions. There are quite a few available — I've found Bold's multi-currency app pretty good on previous projects.
But the bottom line is: if you need to sell in multiple currencies, then again the better option is Shopify.
---
Adding a blog to a Volusion or Shopify store
Shopify offers an extremely important feature out of the box that is missing from Volusion: a blogging tool.
You might not immediately think that a blog should be a key part of an online store, but in this day and age of content marketing and inbound marketing, the posting of quality blog content is absolutely essential to increasing traffic to a site (and by extension, to generating product sales).
That said, the Shopify blog is fairly basic — if you want to do advanced post categorisation and tagging, or particularly need an archive of older versions of posts, you might be better off with a third-party blogging platform such as WordPress.
But the majority of merchants will be able to make do perfectly well with a Shopify blog, so for me this gives Shopify yet another edge over Volusion.
How to save on Shopify
If you're interested in using Shopify, you can save considerably on your subscription if you purchase your plan in a particular way. Here's how:
When your trial is over, choose an annual or bi-annual plan. This gives you a 10% or 20% reduction in fees respectively.
---
Ease-of-use
Both Volusion and Shopify take a similar approach to their interfaces — you see a menu of options on on the left which allows you to access features or content on the right. They are both pretty straightforward to use.
One edge in the interface department that Volusion arguably has over Shopify is its drag-and-drop style editor; this lets you add and move blocks around pages (for most page types, Shopify still makes use of a WYSIWYG editor)
In my view however, overall Shopify has got a more intuitive interface than Volusion — it's cleaner, more functional and more robust — and when testing these two products against each other, I've always found that putting a simple store together tends to be much quicker in Shopify than in Volusion.
The below tutorial video gives a walkthrough of the Shopify interface.
---
Product options and variants
One area where Volusion has a bit of an edge over Shopify involves product options and variants.
Whereas in Volusion, you can create as many of these as you need, Shopify places a restriction of 3 on product options (i.e., Size, Color, Style etc.) and 100 on product variants (small / medium / large) etc.
Now, this limit can be lifted if you are happy to use an app from Shopify's app store (there are quite a few available that let you use as many product options and variants as you like).
But this will usually involve an extra cost.
---
Marketing features
Online store builders are increasingly striving to become 'all-in-one' platforms that let you not only sell products online but market them too.
To this end, Shopify recently introduced email marketing features (via its 'Shopify Email' feature).
This is currently quite basic, but it does nonetheless allow you to create e-newsletters within the Shopify interface and manage simple email marketing campaigns.
It's cheap too — you can send up to 2,500 emails per month for free using Shopify Email; a fee of just $0.001 applies to every email you send over this limit (meaning that sending an additional 1,000 emails would cost you just $1).
Additionally, Shopify's app store is packed full of marketing tools that allow you perform a really wide range of marketing tasks — for example, creating affiliate programs, running social media campaigns or hosting contests and competitions.
The older version of Volusion, V1, did provide some functionality in this department (an affiliate program and email marketing of sorts) — but these features are not currently present in the latest version of the platform.
So as things stand, in the marketing features department, it's a clear win for Shopify.
Now, let's take a look at search engine optimization.
---
SEO tools in Volusion vs Shopify
Both Volusion and Shopify allow you to extensively tweak key SEO settings, including page title, URL, alt text, meta descriptions, 301 redirects etc. — all the stuff you'd expect to be able to change without any difficulty in a professional e-commerce solution.
Shopify handles 301 redirects slightly better however, by creating them automatically for you every time you change a URL (or prompting you to do so); in Volusion however it's a case of going into a redirect management page and doing things manually.
To be fair to Volusion, the latter approach is how most online store builders handle redirects, but Shopify's approach is better and is safer from an SEO point of view.
AMP
Accelerated Mobile Pages format (AMP) is a Google-backed project which aims to speed up the delivery of pages on mobile devices (by stripping out unnecessary code from the pages).
SEO experts believe that AMP can bring some SEO benefits, as faster loading pages are given preference by Google, and people stay longer on faster-loading pages (thus increasing 'dwell time', which is also believed to help improve search rankings).
Whilst you can use AMP easily enough in Shopify (through the installation of a third party app), this functionality does not yet seem to be available with Volusion.
---
Shopify video review
Our Shopify video review shows you the 7 key things to like about the platform, and the 7 things to watch out for.
GDPR compliance in Shopify and Volusion
Please note: I'm not a lawyer, so this section should not be interpreted as formal legal advice.
With the introduction of GDPR (General Data Protection Regulation) laws by the EU last year, website owners now have to meet quite a lot of new requirements when it comes to data protection and privacy.
Whilst you can have confidence that Shopify and Volusion are meeting those requirements internally — keeping transactions and data secure etc. — you as a customer will still have to do several things on your store to ensure you're not in breach of GDPR rules.
Specifically, you'll need to
create a privacy policy, website terms of use document and cookies notice and ensure these are accessible from your site

create a cookies banner that allows users to consent to cookies BEFORE they are run, and logs that consent

provide a means for users to revoke consent to cookie usage after they've run that cookie
Whilst it is easy enough to put together the relevant documentation (either using templates or a lawyer), and display it on your site, it can be hard to meet the requirements around cookie banners and cookie consent.
Yet again, Shopify has an edge here, because there are quite a lot of GDPR apps available in its app store (note: some are considerably better than others!), whereas there don't seem to be any available for Volusion.
---
Userbases and history
There are two important 'due dilligence' questions to ask yourself when investing in any hosted e-commerce or website building solutions:
How many people actually use this product?

How long has it been in existence?
The answers to these questions are important, because they let you know how much you can 'trust' the solution you're considering using – for example, a relatively new company with only a few users on their books is more likely to go bust or shut down their service, with serious consequences for your online store.
User figures
In terms of userbases, the stats provided by CMS analytics tool Builtwith give you an idea of how these tools compare in terms of popularity.
Builtwith reports that there are currently around 9,600 websites built with Volusion; this is dwarfed by the 2.6 million Shopify stores in existence.
Company histories
Shopify is a newer kid on the block than Volusion; whereas Volusion has been around since 1999, Shopify opened its doors for business in 2006.
This puts the userbase and sales figures into context: Shopify has grown its business more quickly in a significantly shorter period of time, to the point where its userbase and sales have completely eclipsed the corresponding Volusion figures.
Ultimately you'll need to draw your own conclusions from these numbers, but for me they point to Shopify being a safer bet than Volusion over the next few years: obviously, a bigger userbase reduces the risk of the company going out of business, taking your store with it (as was the case of Magento Go a few years ago).
---
Customer support
Volusion offers online support on all plans, but phone support is only available on its $79 'Plus' plan and higher. Shopify's phone support is available on its $29 'Basic' plan and up.
Unlike with some competing products, it's easy enough to access Volusion's phone support team: when logged into your Volusion Dashboard, you simply click the help icon and then a 'schedule call' option.
Accessing phone Shopify's phone support service involves a slightly fiddlier process: you have to search for a solution to your problem and fail to find one before you can access phone support details (as with Volusion, a callback system is in operation).
In addition to phone support, both Volusion and Shopify provide 'help centers' that you can use to search for and access support materials.
However, because there are two distinct versions of Volusion currently in circulation — V1 and V2 — it's easy to end up on the wrong help site, accessing the wrong materials, and getting quite confused.
---
Volusion vs Shopify: conclusion
Overall, Shopify is the hands-down winner in a Volusion vs Shopify shootout. There are many reasons for this, but if I had to highlight a few key ones I'd mention the following: Shopify provides a much wider range of templates, comes with a point of sale system, facilitates multi-currency selling and has blogging functionality included.
The vast disparity in the size of userbases is also something to think about: personally I'd feel nervous about building a store on a platform like Volusion which, if Builtwith's statistics are correct, has just 9,600 users.
The only area where I feel Volusion outperforms Shopify in a significant way is where product options / variants are concerned — there's no hard limit to worry about, whereas Shopify limits options to 3 and variants to 100 (limits which can be removed via an app).
But in general, it's hard not to conclude that Shopify is the much stronger and better value platform.
To sum up, here are the key reasons why you might use one of these platforms over the other:
Reasons to use Shopify over Volusion
You can sell pretty much anything you like with Shopify (digital products, subscriptions, services etc.); Volusion essentially limits you to selling physical products.

There are more themes to choose from with Shopify, and its paid-for themes are cheaper than the Volusion equivalents.

You can sell in multiple currencies with Shopify.

Blogging functionality is built in — this is not the case in Volusion.

A much wider selection of payment gateways is available in Shopify.

Built in email marketing is included.

A significantly wider selection of apps and integrations is available

for Shopify.

Point-of-sale functionality is available on Shopify — but not on Volusion.

Shopify's dropshipping capabilities are much stronger.
SEO features are stronger in Shopify.

Abandoned cart functionality is available on the $29 Shopify plan; you'll need to be on a $79+ plan to avail of this important feature with Volusion.

You can use AMP easily with Shopify

; but not with Volusion.

There are no sales limits on any Shopify plans.

Shopify has a much larger userbase — which makes it a safer bet for your business (i.e., Shopify is much less likely to go bust, taking your store with it).
Reasons to use Volusion over Shopify
There are no transaction fees on any plans, regardless of payment gateway used.

There are no product option or variant limits to worry about.
Start a free trial of Volusion
---
Alternatives to Volusion and Shopify
For me the obvious alternative to either Volusion or Shopify is BigCommerce — it's got a similar feature set to Shopify, and it some of its features are stronger (for example, its multi-currency selling functionality and its abandoned cart recovery tool). You can check out our BigCommerce review here.
Squarespace is definitely also worth a look — it's not quite as good as Shopify in the e-commerce department but its interface is really great, and its website building features are stronger. Check out our Squarespace review here or our Shopify vs Squarespace comparison here.
Other solutions you might wish to investigate include Wix, Big Cartel, Jimdo, Magento, WooCommerce and Ecwid (the latter two being good options for WordPress users in particular).
And finally, there's always existing online marketplaces like Etsy and Amazon. Selling on these platforms is quite different from using a site builder like Volusion or Shopify to host an online store; but thanks to their massive customer bases, it can be a very lucrative option (when done correctly). Check out our Shopify vs Etsy shootout and our Shopify vs Amazon comparison for more information on this way of selling.
---
Any thoughts on Shopify vs Volusion?
I hope you've found our Shopify vs Volusion comparison helpful! If you've used either Shopify or Volusion (or both!) in the past, I'd love to hear your thoughts on both — feel free to your add comments or questions below. We read all comments and do our best to reply to any queries you may have.