We follow a strict honesty policy. However, to fund our work, we use affiliate advertising links on this blog.
In this post, I'm going to show you how to make an online store.
BUT…
Creating an online store is fairly easy. Selling isn't.
So this post isn't JUST about what apps you need to start an ecommerce site.
It spells out the 6 key steps you need to take to get a successful online store fully off the ground.
One that actually results in sales.
Let's start by discussing something very important: your products.
---
1. Pick the right type of products to sell
This may sound rather obvious, but picking the 'right' type of products to sell is absolutely essential to the success of your store.
However, by 'right' I'm not talking about quality – you should obviously avoid selling poor-quality goods – I'm talking about the 'uniqueness' of your products.
This is because when you set up an online store, you are competing with a large number of hugely popular sites selling everything under the sun (Ebay, Amazon, Etsy etc.).
Generally, you are going to have a tough time selling products if you are simply offering stuff that is already widely available on those kinds of sites.
To create a successful online store, what you need to do is 'find your niche' – identify (or make!) a product range that is not being sold by every online retailer out there, but for which there is enough demand to sustain an online business.
For example, instead of selling a guitar that is commonly available on Amazon, you might consider selling an instrument that is harder to find online — but for which you know there is strong demand.
Finding a niche typically involves a bit of keyword research.
Let's take a quick look at that.
Using keyword research to help you find your niche
The simplest way of identifying a niche is to use a keyword research tool (like Semrush) to find niche markets and see what sort of competition is operating in those markets.
Keyword research tools allow you to find out how many searches per month are performed for various phrases.
Let's say you're thinking of creating an online store to sell musical instruments, and you're wondering what type of instrument to focus on.
By using a keyword research tool, you'd learn that there are 9,500 searches per month for the search term 'buy guitar' and only 1,300 for 'buy banjo.'
This might make you think "hey, there's a much bigger market for guitars, so I'm going to sell guitars" but stop right there — think of the additional number of guitar sellers you will be competing with.
The data that the keyword tool has just given us tell us that banjos are definitely much more of a niche product — but one with a decent enough number of people interested in buying them every month.
The question is whether there are already a lot of retailers dominating the search results for this product — people might have beaten you to this niche.
To find out, you need to look at 'keyword difficulty.' This is a score given (in one format or another) by keyword research tools.
The lower the keyword difficulty score, the easier it will be to appear in searches for that product name (and thus generate sales).
As the screengrab above shows, it will actually be pretty easy to rank for the 'buy banjo' phrase.
So, the trick is generally to find products for which there is a reasonably strong level of demand but relatively few online stores selling them (or, ideally, none at all!).
Related content: for more information on keyword research tools, check out our Ahrefs vs Semrush comparison; our Semrush review; and our guide to Semrush pricing.
Now, once you've found your niche, and decided upon the products you're going to sell, it's time to think about where to get them from.
Which brings us onto…
---
2. Source your stock
There are two main options available to you when it comes to sourcing stock:
purchasing it from a supplier, storing and reselling it, or
The advantage of the first option is that you can view the quality of stock first-hand, ensure it is produced ethically and build up a good relationship with your supplier.
(Of course, if you're making your own products, you are in effect the supplier!).
The disadvantage of this option is that you will need to invest cash in purchasing goods which, if your business is not a success, you may never end up selling. You may also face costs associated with storing them somewhere.
The second option, dropshipping, is a fulfilment method where you don't keep what you're selling in stock.
You take the order, send it to a supplier, and they deliver the goods to your client — your store becomes, in effect, a 'middle man' of sorts. You might never meet or have direct dealings with your supplier, and you might never see the majority of goods you're selling.
The primary advantage of dropshipping is that no upfront investment is required.
The downside is that it is quite a competitive area, and you may end up selling products that are marketed aggressively by many existing merchants.
Additionally, there may be some ethical concerns to consider — not all dropshipping suppliers have the best track record when it comes to how their goods are produced.
Most of the major ecommerce platforms — which I'll talk about in a bit more depth below — offer add-ons / integrations which allow you to dropship goods produced from a wide range of suppliers. Popular apps include Oberlo for Shopify and Ali Express for BigCommerce.
Ultimately it's probably fair to say that Shopify offers the most options when it comes to dropshipping, however — simply because its app store is extremely large by comparison to its competitors, and it is stocked with a lot of dropshipping apps.
The Shopify dropshipping starter kit
If you're interested in dropshipping, I'd recommend that you take a look at Shopify's dropshipping starter kit — with this, you get 14 days of free access to Shopify plus lots of bundled resources and tools that show you how to launch a successful dropshipping Shopify store.
Now, let's take a look at the platforms you can use to build your online store.
---
3. Choose the best online store builder for your project
Once you've identified your niche product and market, and know where you're sourcing your stock from, it's time to think about getting your online store off the ground.
You have two options here:
hire an agency to build it
use an online store builder app
If you go down the agency route, make sure that your developers give you a solution that lets you manage your store without their assistance after it goes live – i.e., ask the agency to provide you with access to a content management system (CMS) that lets you edit your site easily and manage your store's inventory.
This means that after your store goes live, you won't have to pay a webmaster or developer on an ongoing basis to do this for you.
Another option is to use an ecommerce platform and just create your online store yourself.
There are lots of ecommerce platforms to choose from – popular ones include Shopify, BigCommerce, Squarespace and Wix.
Of the ones I have road tested to date, I have found Shopify and BigCommerce to be the most straightforward for users without a lot of experience of building ecommerce websites – they strike the best balance between features and user-friendliness.
You can watch our video review of Shopify below for a quick overview of the pros and cons of the product, or grab a free trial of it here.
Squarespace and Wix are also easy to use, but lack some of the more advanced ecommerce features that come with Shopify and BigCommerce — for example, the ability to sell in multiple currencies, or make extensive use of point-of-sale technology.
(You can learn more about these two products in our Wix vs Squarespace comparison).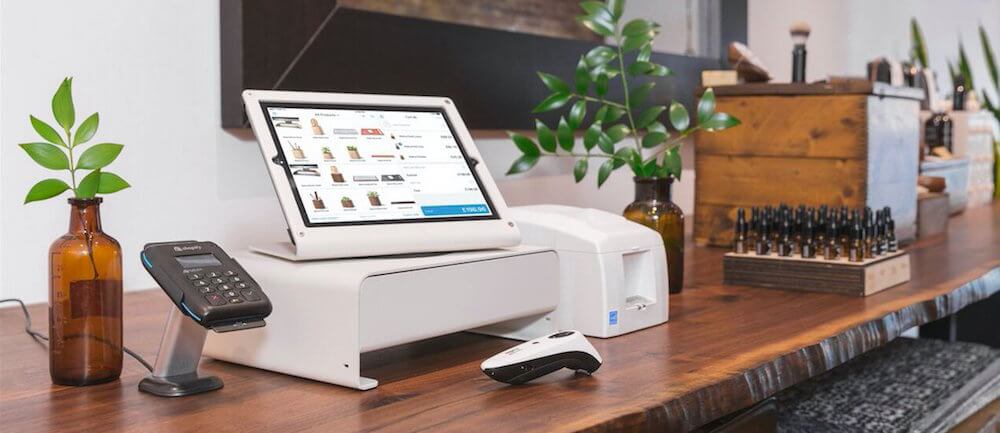 The good news is that all these solutions offer free trials and support to help you get going – just follow the links below:
Which online store builder is right for me?
Here are some thoughts on some of the best-known online store builders.
Shopify
Thanks to an app store feature a huge number of add-ons and integrations with other software, Shopify offers more flexibility than other ecommerce solutions (although you will sometimes have to pay extra for this). It's also probably the best option for anyone who needs point-of-sale functionality. Read our full Shopify review or take a look at our guide on how to start a Shopify store.
BigCommerce
BigCommerce is a good all rounder, offering a lot of 'bang for your buck — its entry-level plan offers a lot of key ecommerce features out of the box that you don't always get included in competing products (for example, professional reporting and gift card functionality). Its SEO features are really strong too. Read our full BigCommerce review.
Squarespace
Squarespace's templates are great, and the platform is extremely flexible when it comes to how you lay out text, images and blog posts on pages (much more so than many of its competitors). Its ecommerce features are getting increasingly good — the only major issue I have with Squarespace on the ecommerce front is that it doesn't let you sell in multiple currencies, which is a drawback for anyone wishing to sell outside their own country. But if your needs are simple, and you only need to sell in one currency, Squarespace is a great option. You can try it for free here (use the PARTNER10 code at checkout to avail of a 10% discount).
Wix
Wix is more of a 'general' website builder than BigCommerce or Shopify, but it does nonetheless provide some pretty decent ecommerce features — and at a lower price point than the above products. It's a good option if you're on a budget, or if you're hoping to build a general-purpose website and sell a couple of products on the side. Read our full Wix review.
GoDaddy
GoDaddy Website Builder is, like Wix a more general-purpose website building tool. But its 'Commerce' plan does have some pretty good ecommerce features and it is a very easy platform to use. Its main drawback is the lack of multilingual or multi-currency selling features, and the fact that it's hard to integrate the platform with other services. You can learn more about GoDaddy in our Shopify vs GoDaddy comparision.
Amazon and Etsy
Amazon and Etsy aren't exactly 'store builders' like the products listed above — they are big online marketplaces that you can list your products on. But thanks to their large customer bases, they can work extremely well as an option for online merchants. Take a look at our Shopify vs Amazon post or our Etsy vs Shopify comparison for more information on this method of selling.
What if I've already got a website?
If you already have a website (for example, a WordPress site) and want to add an online store to it, 'plugin' stores like Ecwid will come in handy.
Ecwid allows you to add a 'widget' to your site (or to any other online presence that facilitates the addition of HTML code – for example, a social media page or blog) and users will see a fully-functional online store at that location.
A way to save money on Squarespace
If you're interested in using Squarespace to make an online store, the company is currently offering 10% off its plans. This can amount to quite a saving, especially if you opt for one of its 'commerce' plans.
This discount is available for a limited time only – to avail of it,
1. Grab a free trial on the Squarespace website using this link.
2. Enter the code 'PARTNER10' when purchasing a plan.
---
4. Optimize your online store for search engines
Once you've found your niche market and designed your online store to cater for it, it is now time to make it visible on search engines. Search engine optimization (SEO) is absolutely vital to the success of any ecommerce project.
You can use keyword research tools like Semrush again here to find out exactly what kind of searches are performed for your type of product, and ensure that your site contains all these keywords in all the right places, namely:
Additionally, make sure that your store is fully accessible to those with a visual impairment. Not only will this help users with disabilities access your content more easily, it can bring SEO benefits too.
The online store builders mentioned above give you a lot of control over SEO (with BigCommerce probably coming in tops in this regard). If you plump for one of those products, make use of this functionality!
Download our free ecommerce e-kit
For a limited time, we're offering our readers some excellent free tools. Sign up free to immediately receive:
our online store comparison chart
a downloadable cheatsheet on how to create an online store
our SEO, blogging and 'how to start a business' cheatsheets
extended free trials and discount codes for essential business apps
our latest tips on ecommerce and growing a business
---
5. Drive traffic to your store via blogging
A key way to attract traffic to an online store is to blog regularly about topics related to what you are selling.
This type of activity is basically known as 'inbound marketing' and if you don't engage in it, you are potentially missing out on a huge number of sales.
By posting high-quality, keyword-rich blog posts related to your area of business, you are doing two things:
maximising the chances of your site appearing in relevant search results
showing you are an authority on the area of business you are operating in.
Potential buyers of your products will have greater confidence in vendors who clearly have a passion for, and understanding of, all things relating to their goods.
---
6. Use online ads to promote your store
If you have the budget, it's definitely worth running some online ads to promote your online store's products. The starting point for most people with this involves Google Ads and Facebook Ads.
Google Ads
Using Google Ads involves identifying (and paying for) relevant search phrases that will display adverts for your store/products alongside 'organic' Google search results.
In my experience, Google Ads campaigns generally work well when you are selling relatively expensive products.
For example, you might be able to live with a Google Ads 'cost per acquisition' of $50 (i.e., where you spend $50 on ads to generate one sale) to sell a product if that product – let's say a TV – retails at $1000; but if you end up spending $50 on ads to sell one CD that retails at $10…well, a different approach might be needed.
It's a question of looking at your margins, trying out different keyword strategies and so on to ensure that the cost of advertising doesn't eat into your profit too much.
But, used well, Adwords can help you sell a lot of products; and If you're interested in learning more about using them, you could do worse than checking out Neil Patel's 'Google Adwords Made Simple' guide.
Facebook Ads
Facebook ads work in a different way to Adwords: rather than paying to display your ads to people who are entering keywords into a search engine, you are paying to display your ads to people who have told Facebook what they are interested in.
For example, using Facebook ads you could advertize Beatles T-shirts to people who like the Beatles; VW key rings to people who drive Volkswagens and so on.
Facebook ads are extremely powerful and let you target (and re-target) audiences to the nth degree — accordingly, it's worth getting a full understanding of how they work before you start spending money on them. Facebook's own guide to advertising on their platform is a good starting point.
Tip: check out our guide to creating e-newsletters and email marketing campaigns to find out how you can advertize an online store in sophisticated ways using email.
---
Any thoughts?
Have you any thoughts on how to create an online store? Or need any help?
If you've set up your own store, or have any queries about doing so, we'd love you to share your thoughts in the comments section below. You can also contact us if you need help building one.
---
Free trials of ecommerce apps
---

---
Or…buy an existing online store!
If all the above sounds a little like hard work, the other option is to buy an online store that's already generating a profit.
This is actually easier to do than you might think, thanks to services like Exchange Marketplace by Shopify or Empire Flippers, which allow you to browse online businesses that have been vetted by experts before being listed for sale (meaning you can buy them in relevant confidence).
For more information on these two options, read our guide on how to buy a Shopify store using Shopify Exchange or visit the Empire Flippers website.
---
How to make an online store — FAQs
How can I start my own online store?
To start an online store, you'll need an ecommerce app. Popular options include Shopify, BigCommerce, Big Cartel and Squarespace. Another option is to sell on an online marketplace like Amazon or Etsy, or to use WordPress in conjunction with the WooCommerce plugin.
How much does it cost to start an online store?
This depends on whether you are happy to build your online store using a 'do-it-yourself' platform like Shopify, or whether you want to involve a web developer. With the first option, you're typically looking at a monthly fee of between $29 and $299 per month, depending on your requirements (the simpler the cheaper). As for the second, this will depend on how experienced your developer is — but it would be wise to budget several thousand dollars.
Can I start an online store for free?
To start an online store for free, you'll need an ecommerce solution that offers an entirely free plan. Most of the most popular ecommerce apps (like BigCommerce, Shopify and Squarespace) don't, but Ecwid and Big Cartel offer plans that allow you to sell a limited number of products without paying for a monthly plan.
What's the best online store builder?
This will depend to a large degree on your requirements as an online merchant, but of the solutions we've reviewed, we've found BigCommerce and Shopify to be the most fully-featured, and Squarespace the easiest to use.
Did you know? This article is now available in French. Check out our "Comment créer une boutique en ligne en 6 étapes" post on the Style Factory France website.