We have a strict honest reviews policy. To fund our research and testing, this post contains affiliate ad links.
In this post I'm going to share 10 free SEO resources that will help improve your understanding of search engine optimization, and highlight some tools that can help you improve the visibility of your site.
---
1. Google's SEO starter guide
Bing, Yahoo Search and Duck Duck Go are all very well, but we all know that if your site isn't coming up at the top of Google search results, you are going to be missing out on a huge chunk of traffic, leads and sales.
(Google does, after all, completely dominate search engine usage, with around 93% of all searches being carried out using it).
So it's important to listen to what Google say about how to ensure good search rankings — and helpfully, they have a LOT to say in very own free search engine optimization starter guide.
It's a 'straight from the horse's mouth' resource for improving your site's performance on Google — and one that's not to be overlooked! Even if you already know quite a lot about SEO, you may find information in there that is new to you.
As a bare minimum, you should be adhering to all the guidelines contained within this guide.
---
2. Semrush
Semrush is an industry-leading SEO backlink checker and competitor research tool — you enter a domain name into it and get a lot of data on it, including:
a list of backlinks pointing to it
competing domains
the keywords it currently ranks for
an estimate of the traffic to that domain.
There is a free version of Semrush available, and although it's more limited in terms of functionality than the paid version, it nonetheless lets you see at a glance how authoritative a particular domain or page is — and this helps you determine whether it's a site worth approaching for backlinks or pitching guest posts to.
How to get Semrush Pro free for 30 days — video guide and free trial link
Tip: for a limited time, there's actually a fully-functional version of Semrush available for 30 days — you can find out more about this here.
---
3. Yoast SEO
If you're a WordPress or Shopify user, you really should be using Yoast SEO, a plugin that evaluates your page content from an SEO perspective.
Yoast's traffic light system tells you immediately if the content you've created is search-engine friendly — and if it isn't, you'll get a list of practical suggestions as to how you can improve it.
The WordPress version of Yoast can be used for free, but a monthly fee applies to the Shopify one.
If you're not a WordPress or Shopify user, you can still make use of Yoast (and for free, too) by visiting the Real-time Content Analysis section of the Yoast website.
This allows you to enter the HTML for one of your web pages — along with a focus keyword — and it will check how good your on-page SEO is.
---
4. Moz's Beginner's Guide to SEO
Moz is one of the leading websites about search engine optimization and provides a range of free and paid-for SEO tools as well as resources about the topic.
One such resource is their Beginner's Guide to SEO — a comprehensive, seven-chapter guide on how to optimize your site for search.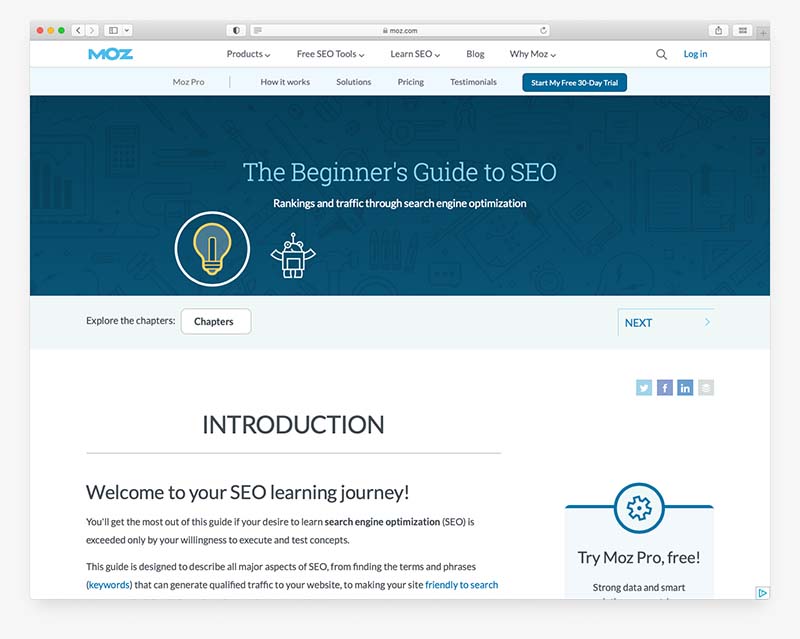 It's well worth a read, particularly for those who are new to the whole area of SEO.
---
5. Google Search Console
If you've got a website, and you want it to perform well in search, it's advisable to register it with Google Search Console.
Regardless of the website builder you're using for your website — i.e., Shopify, Squarespace or Wix — Google Search Console gives you a comprehensive, free set of tools to improve its SEO performance, check it for any crawl errors and view backlinks to it.
As soon as you register your website with Google Search Console, you'll receive an email with a helpful series of steps you should take to maximise its visibility in search.
Follow them!
While you're at it, you should also register your site with Bing's Webmaster Tools. Although Google is still the dominant player where search engines are concerned, Bing is handling an increasing number of search queries, particularly in the US and the UK — so it make sense to ensure that it knows as much about your website as possible.
---
6. Pingdom
Google and other search engines place an increasing amount of emphasis on page speed; sites that load content quickly are given preferential treatment in search results.
Pingdom have a really helpful (and free!) Website Speed Test to help you analyze your website load speed.
The test is designed to help you make your site faster by identifying what about a webpage is fast, slow, too big, and so on.
You simply enter a URL into the tool, and it will produce a report which highlights areas for improvement.
Don't miss out on our free SEO toolkit
For a limited time only we're offering our readers some excellent free SEO tools and resources. Sign up now to immediately receive:
our downloadable cheatsheet containing the 20 key steps to ranking highly in search results
extended free trials and discounts for leading SEO tools
our downloadable cheatsheet on how to grow organic traffic to a blog
2 in-depth guides to SEO
ongoing free tips and advice on SEO and growing your business
---
7. Screaming Frog
The Screaming Frog SEO Spider crawls your website's URLs and analyses your onsite SEO. You can download it for free, or purchase a licence for additional advanced features.
A few things you can do with the free version of Screaming Frog are as follows:
Identify broken links, errors and redirects
Analyse page titles and meta data
Review meta robots and directives
Audit hreflang attributes
Discover duplicate pages
Generate XML sitemaps
Not a bad feature set for a free tool.
---
8. Ahrefs' Webmaster Tools
Like Semrush, Ahrefs is one of the web's most popular SEO tools, allowing you to perform keyword research, conduct backlink analysis and run site audits on your website.
The full version is quite expensive — it costs a minimum of $99 per month — but the company recently launched a tool that offers some of the platform's SEO functionality for free.
Called 'Ahrefs Webmaster Tools,' it lets you use cut-down versions of its "Site Explorer" and "Site Audit" tools. These let you perform backlink analysis and improve the technical SEO setup of your site respectively.
You can learn more about Ahrefs Webmaster Tools here — or watch our video about how to perform keyword research with Ahrefs below.
In addition to its 'Webmaster Tools' product, Ahrefs gives you some other free tools to play with, including a keyword generator, a SERP checker and a website traffic checker.
---
9. FatJoe's Blog Post Title Idea Generator
Link-building company FatJoe provides a blog post title generator which might come in handy if you're stuck for ideas on either what to write about, or how to format a post title.
You enter a keyword and it provides a list of suggestions on how to include it in a post title.
According to FatJoe, the titles output are based on a formula — Number + Adjective + Keyword + Rationale + Promise — which has been shown to increase clickthrough rates in search results (and many SEO experts believe there to be a correlation between clickthrough rate and overall rankings).
The tool is pretty basic, and depending on the keyword you enter, some of the titles suggested don't always make sense…but it can provide some food for thought.
---
10. Google's Search Central YouTube Channel
The Google Search Central YouTube Channel is full of useful advice about SEO. For a good visual introduction to search engine optimization, it's definitely worth subscribing to.
It also gives you a great way to find out when Google changes an aspect of its algorithm, or get the latest hints on how to improve your technical SEO.
Increasing site visibility: a video guide
Bonus SEO resource — useful SEO Twitter feeds!
Some of the best free SEO resources you can lay your hands on come in the form of tweets!
Here's who I follow to get advance notice of what Google's up to…I'd suggest you that you do too.
And of course do follow Style Factory on Twitter if you can — we often share SEO insights, news and best practice.
---
Get more SEO tips — download our SEO toolkit
If you're interested in getting a fuller understanding of SEO, make sure you sign up to our mailing list. This gives you free access to all our SEO guides, checklists and resources, which we'll send to you regularly. Join our community below!
Don't miss out on our free SEO toolkit
For a limited time only we're offering our readers some excellent free SEO tools and resources. Sign up now to immediately receive:
our downloadable cheatsheet containing the 20 key steps to ranking highly in search results
extended free trials and discounts for leading SEO tools
our downloadable cheatsheet on how to grow organic traffic to a blog
2 in-depth guides to SEO
ongoing free tips and advice on SEO and growing your business
---
Other free SEO resources and tools
You may find the below SEO resources helpful too: